Some Real Sand Washing Customer Site
The sand washing line is mainly equipped with sand washing machine, vibrating screen, and dehydration screen to complete the cleaning, dehydration, and recovery of sand and stone materials, so as to get clean-finished sand.
Sand washing
1. Processing material: mechanism sand
Equipment configuration: sand washing machine 2LZ36-120-2442J, thickener S-6050, fines recovery unit, chamber filter press G250-125
Processing capacity: 150t/h x two lines
This kind of production line is mainly used for the recovery of solid particles in the production process of machine-made sand, tail water purification, and dry solid waste treatment. It is one of the sand and gravel production lines with very high utilization rate at present, with scientific, reasonable and good effect.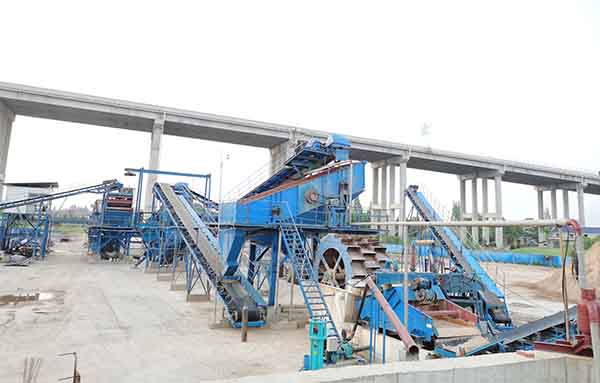 2. Processing material: sandstone
Equipment configuration:
Double wheel sand washing machine: for washing and cleaning sand
fines recovery unit: for dewatering the finished sand discharged from sand washer, and recycling the fine sand
Thickener: for concentrating the wastewater and producing the clean water
Chamber filter press: press the thickened sludge into mud cake to achieve complete separation of mud and water.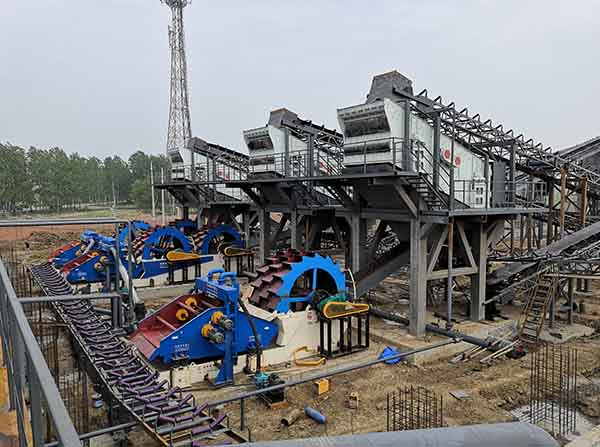 3. Processing material: sand < 5mm
Equipment configuration: double wheel sand washing machine, fines recovery unit, thickener, chamber filter press
Requirements: sand washing, recycling, dewatering
This production line mainly screens, cleans and recovers natural sand, and conducts dry discharge treatment of kaolin in the tail water.
Wastewater treatment system
1. Processing material: construction waste, muck
Equipment configuration: vibrating screen, screw sand washing and screening machine, fines recovery unit, thickener, chamber filter press
If the soil in the material is not cleaned, it will affect the quality of the recycled aggregate and fail to produce qualified cement products. The spiral screening and washing machine will lose fine sand when cleaning materials, which will cause material loss, damage the gradation, and add burden to the subsequent sludge treatment. Most of the lost fine sand can be collected through the fine sand recovery machine to reduce material loss.
The sand washing wastewater contains a large amount of mud, and the preliminary mud-water separation can be achieved with thick equipment. Then use the filter press to press the thick sludge of the trihydrogen purification body into a mud cake to achieve a dry pile, which can be loaded and transported out of the car. Water can be recycled.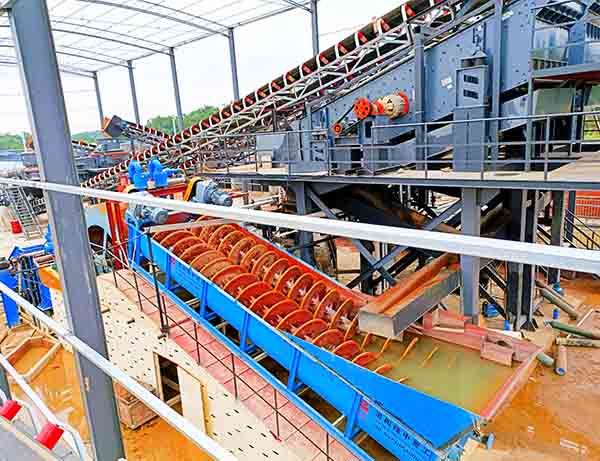 2. Processing material: iron tailings
Processing capacity: 600m³/h
Mud content: <10%
Equipment configuration: fines recovery unit, thickener, chamber filter press
Iron tailings slurry dry discharge equipment can effectively make comprehensive utilization of tailings, so that tailings can be turned waste into treasure, and the hazards and resource waste caused by tailings stacking can be avoided.