200t/h Granite Sand Washing Plant Process in Saudi Arabia
A sand washing process includes material screening, cleaning and recycling, dewatering, and wastewater treatment depends on the different required finished sand. Only by understanding the size of raw materials, output requirements, and finished product particle size requirements can we configure an efficient and high-quality production plan.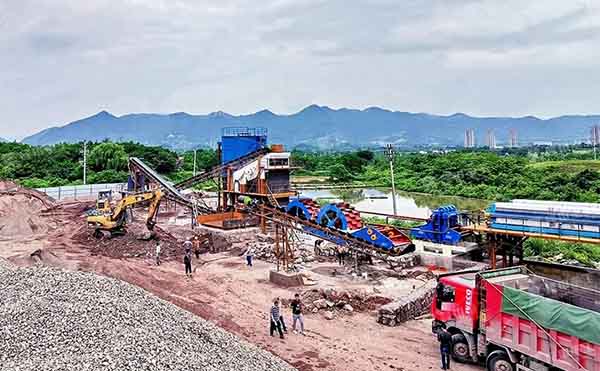 Granite is a relatively common rock and an advanced building material. Its color is beautiful, with high hardness, abrasion resistance, weathering resistance, and corrosion resistance. And with the development of the machine-made sand industry, granite has become a common material for machine-made sand.
In the sand washing process, the sand and gravel raw materials need to be coarsely crushed and finely crushed, and then processed into sand by sand making treatment, then washed by the sand washer, dehydrated by the dewatering screen. Because the requirements for the finished product of sand are relatively high in industrial construction, the direct processing into machine-made sand generally cannot be used directly.
Sand washing plant equipment configuration
The configuration of sand washing process generally needs 3 stages
Sand washing and recycling machine: separation of mud and sand
Fines recovery unit: fine sand recycling
Solid waste dry discharge: achieve complete separation of mud and water
The sand washing and recycling integrated machine clean and recycle the crushed machine-made sand. The fine sand recovery system performs secondary recovery of the fine sand lost in the tailwater of the washing operation to realize the separation of mud and sand. The mud thickened by the thickener is pumped by the special pump of the filter press, and then pumped into the chamber filter press for pressure filtration, and the finished mud cake is produced, which can be loaded and transported out of the car. At the same time, the thickener overflows the clean water, and the clean water filtered by the filter press is returned to the clean water rotating tank, and the discharged clean water can meet the discharge standard and can also be reused.
Based on the user's material requirements, output, and usage, as well as the actual conditions of the production site, it is the original intention of Longzhong Heavy Industry to design the most economical and reasonable production plan for the customer.