DS Series Multi Function Sand Washer
Brief introduction
With the shortage and non-renewable of mining resources, LZZG blockbuster launched DS series new sand washing equipment. It is widely used for crushed sand, river sand, lake sand or sea sand washing, screening, recycling and dewatering.
Working principle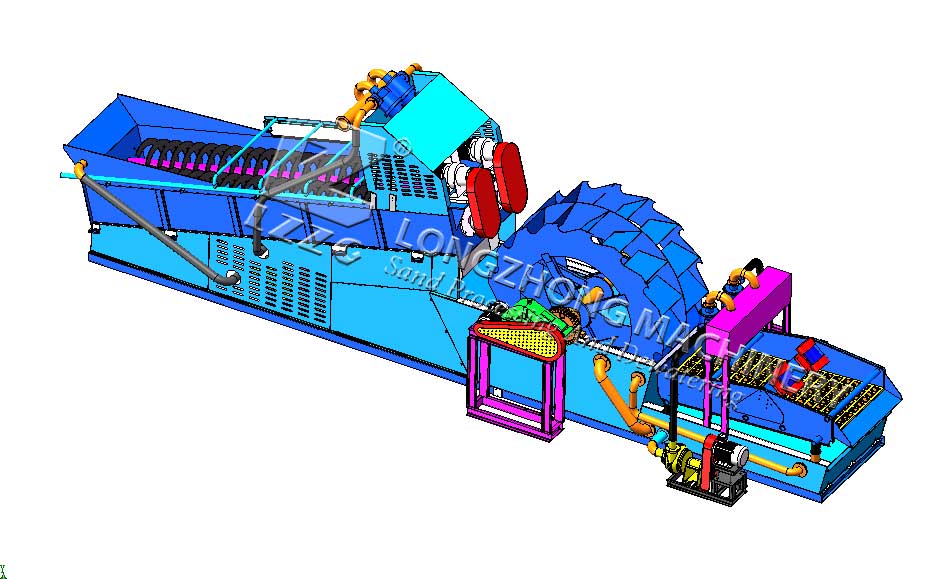 Sand becomes the qualified products by the screening machinery, then flow into spiral stirrer through chute, the spiral sitter will clean, soak, break up sand ( especially direct at high mud content material), tailing waste water discharges into separating device to concentrate and grading. Tailing and coarse ore discharges into waterwheel to be cleaned and dehydrated at the same time, waste water discharges into secondary separating device to concentrate and grading, tailing and coarse ore discharges into dehydration and desliming device at the same time again. Then the finished product which is fully dehydrated by high frequency vibrating motor will be transported into material pile by belt conveyor and for sale.
Features
1. Combine spiral, wheel washer in one for twice cleaning.
2. Efficient, energy saving, environmental protection.
3. Can be customized for different models, multi-layer screen.
4. Installation is simple, low maintenance costs.
5. Finished sand moisture content of less than 15%, mud content of less than 2%.
Tech specifications
Model
Power (kw)
Sand capacity (t)
Max feeding size (mm)
Secondary separating (optional)
Cyclone material
Sand production rate
Weight  (kg)
Overall  dimensions LxWxH (mm)
DS-L2612
42.9
30-50
≤10
No
PU, KM composite ceramic, corundum
90%
11000
13500*2100*2850
DS-2L2612
64.9
40-60
≤10
Yes
98%
12500
13500*2100*2850
DS-L3015
66
80-100
≤10
No
90%
22300
16600*3100*3300
DS-2L3015
96
90-110
≤10
Yes
98%
24000
 16600*3100*3300