XSD wheel sand washing machine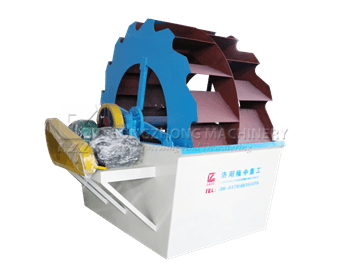 Brief introduction
LZZG bucket  wheel sand washing machine adopts wheel-like structure and equipped with sand making machine is the necessary sand washing product. It can wash stone power and residual away from the mixed sands produced by sand making machine, which can improve the sand quality mostly.
XSD wheel sand washer, adopting advanced technology and taking the stone sand industry's practical condition into consideration, is applied for washing, grading and dehydrating in sandstone factory, construction site, hydroelectric station dam, glass manufacturing and oil well development.
Working principle
The electric motor drives a gear unit that turns the bucket wheel at a design speed in a clockworks direction. The sand and stone flow into washing launder from feeding launder, rolling with the bucket wheel, and grinding/rubbing with each other together with a strong water flow. The impurity covering (on) the sand is washed away. Adding more water at the same time, the strong water flow will takes away waste and allows the sand and stone to stratify according its specific gravity. To complete the whole washing process.
The clean sand and stone is picked up by the bucket wheel vane. When it rotates up slowly, the water begins to drop through the mesh in the back of the bucket and falls back into the washing tank. On one hand, water is removed from the sand and stone; on the other hand, the water can be fully used. Finally, the sand and stone goes to the out launder from the rotary bucket wheel to finish the washing task.
Features
1. Reasonable Structure: The bucket wheel drive bearings is isolated from water and materials buried in washer, which greatly avoid the bearing damaged because of soaking in water, sand and other pollutants.
2. Compared with the screw sand washing machine, the loss of medium and fine sand and powder is minimized, the grade and fineness can meet the required standard.
3. High output and low power consumption.
4. Longer service life and convenient maintenance.
Specifications
| | | | | | | |
| --- | --- | --- | --- | --- | --- | --- |
| Model | Feed size (mm) | Capacity(t/h) | Dianater of Impeller(mm) | Power(kw) | Weight (kg) | Dimension (mm) |
| XSD2610 | ≤10 | 20-50 | Φ2600 | 5.5 | 2525 | 3107*2272*2739 |
| XSD3016 | ≤10 | 50-120 | Φ3000 | 11 | 4200 | 3650*2839*3070 |
| XSD3620 | ≤10 | 120-180 | Φ3600 | 15 | 7454 | 4300*3564*3685 |
| XSD3624 | ≤10 | 140-220 | Φ3600 | 18.5 | 7988 | 4300*3970*3685 |
| XSD4530 | ≤10 | 180-250 | Φ4500 | 22 | 16000 | 6010*4450*4622 |