Tailings Dewatering and Wastewater Treatment
Tailings dewatering is a new tailings disposal technology that has gradually emerged in recent years. It means that the tailings slurry output by the beneficiation process is concentrated in multiple stages and then processed by high-efficiency dewatering equipment such as dewatering vibrating screen to form the dry, drip-free, and easy to handle products, as well as the clean water can be reused in the process.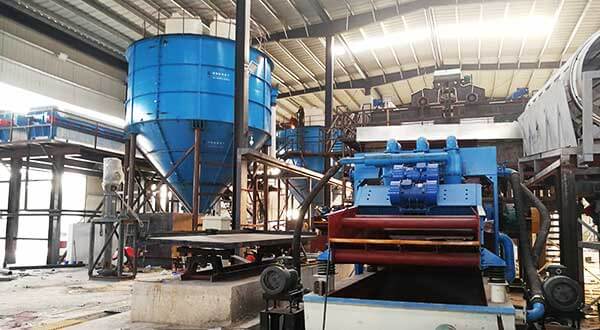 Applications of the tailings
1. Recycled sand and gravel aggregate
2. Concrete fine aggregate
3. Production of building materials
4. Reclamation by tailings and establishment of ecological zone
5. Recover the valuable ingredients
Traditional tailings disposal
The vast majority of domestic tailings still use wet discharge and are stored in tailings ponds. This traditional technology is harmful to the environment and safety. The tailings ponds and thickeners are also used for tailings treatment in traditional tailings treatment. There are many problems in this processing technology, the main problems are as follows: the tailings sludge cannot be effectively dewatered, low water cycle utilization rate, and big power consumption, tailings pond covers a large area, high potential safety hazards, long conveying distances, large investment costs, and high operating costs.
LZZG new tailings dewatering system
1. Equipment configuration
Tailings dewatering screen+thickener
2. Tailings dewatering process
The tailings dewatering system is mainly composed of tailings dewatering screen, hydro cyclone separator, thickener, filter press, clean water tank, conveyor belt, etc. The tailings disposal system is a specialized treatment system developed for dry tailings discharge and zero tailings slurry discharge in the beneficiation industry. It has been used in many production lines, and its magical effect has also been praised by many customers. The tailings after being drained by the tailings dehydration screen are directly transported to the designated stacking location by belt conveyor. The overflowing tailings mud and other impurities will enter the thickener for concentration and separation. The slurry settles by gravity to achieve the purpose of solid-liquid separation and wastewater purification. After treatment by this system, the solid content of the mud cake is high, and the clean water can be reused. It can effectively solve the pollution problem of surplus tailings sludge, truly realize zero-emission production of the beneficiation production line, and meet environmental protection standards.