The Screening Process in Sand Production Lines
Screening is a common process in sand and gravel production lines. Classification according to the shape and size of different materials, whether it is the pre-screening at the front end or the separation of the finished materials at the end, screening is inseparable.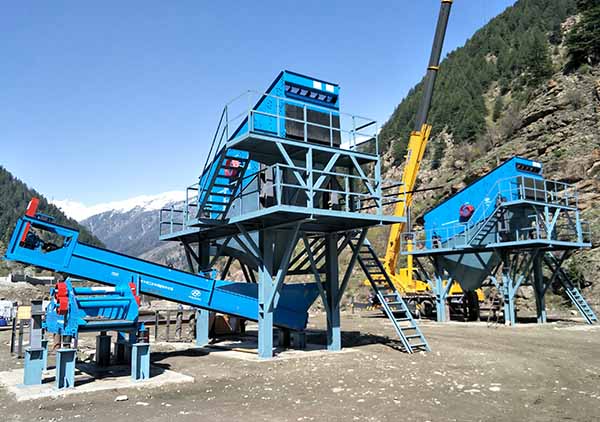 1. Pre-screening
Pre-screening is required before crushing because the raw material has a large particle size range. Large pieces of material need to be roughly broken with a jaw crusher. In order to avoid excessive crushing, small pieces of materials can be directly screened and then enter the subsequent equipment without entering the jaw crusher for crushing. The screening at this time is called pre-screening.
For sand and gravel production plants, pre-screening can avoid ineffective crushing of materials, thereby increasing the production capacity of crushing equipment and reducing power consumption. Adding a screen on hopper or a special vibrating screen both are the ideal pre-screening equipment.
In lots of sand and gravel production lines, the screening equipment also is equipped after the crushing process to control the size of crushed products. The unqualified materials are screened out or returned to the crusher for crushing until they meet the particle size requirements. This can be called inspection screening. Its purpose is to sieve out large pieces of unqualified particle size from the finished material of the crushing equipment so that the product does not exceed the required upper limit of particle size. Inspection screening is similar to independent screening, and most of the equipment used is circular vibrating screen.
3. Dehydration screening–sand dewatering screen
The main function of the sand dewatering screen is dewatering, desliming and desilting. The equipment is installed at a low angle and vibrates linearly. Sand is discharged from the screen, and water is discharged from under the screen into the tailing tank. The water content of finished products after dehydration by sand dewatering screen is between 12%-15%. On the one hand, it improves product quality, facilitates storage and transportation, and reduces transportation volume. On the other hand, the sand-washing tailwater can be recovered for recycling.
4. Finished products classification–independent screening
A production line processes more than one size of finished products, and different users have different requirements for the size of sand and gravel aggregates. Therefore, the finished material is screened into a variety of granular products and supplied to various users, which is called independent screening. The linear vibrating screen is often used for independent screening.