Sludge Dewatering Machine Belt Filter Press
The filtering principle of sludge dewatering machine filter press is a process for separating solid particles suspended in liquid or gas. The sludge treatment needs to go through three main links: pretreatment, sludge concentration, and dehydration, back-end disposal. The processing capacity is the primary index to evaluate the comprehensive performance of the belt filter press.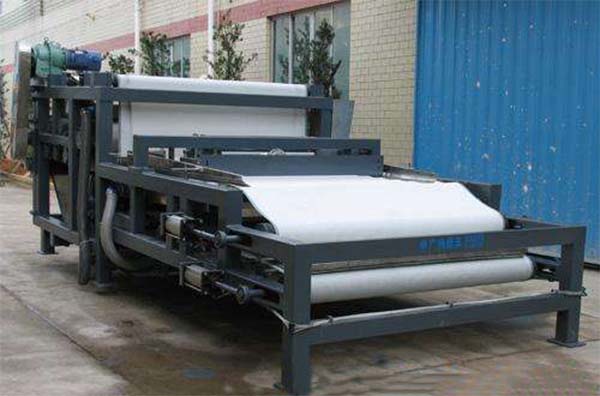 There are many factors that affect the processing capacity of the sludge dewatering machine belt filter press, but they are mainly reflected in the gravity dewatering area, the pressing area and the operating speed of the belt, the tension of the belt, the diameter of the roller, the selection of the belt and the effect of dosing and so on. These factors are also a comprehensive reflection of the structural design, production, and manufacturing quality of belt filter press. Therefore, understanding the calculation method of the processing capacity of the belt filter press has certain guiding significance for optimizing the design of belt filter press, selection of operating parameters, reasonable dosing, and so on.
The filter press has the advantages of unique multi-stage dewatering design, high dewatering efficiency, less water in filter cake. It is widely used in sewage treatment, papermaking, leather, and other sewage treatment projects. The belt filter press adopts the leading international arc roller bag dewatering technology in the transition dewatering area, which effectively solves the problem that the sludge runs from both sides of the belt press when there is a large amount of sludge. The stainless steel self-cleaning nozzle is used in the screen belt washing system of the belt filter press, which reduces the water quality requirement of washing water. The flushing water can be discharged from the secondary sedimentation tank, and it can flush away the dirt blocked in the nozzle by itself, which further reduces the operating cost of the belt filter press.
Sludge dewatering machine belt filter press advantages
1. The main machine adopts Gb square pipe welded as a whole. High pressure sandblasting surface, deoxidizing, spraying four layers of fluorocarbon paint, acid, and alkali corrosion resistance of more than 10 years.
2. The key parts are made of high-performance stainless steel, including the main dewatering roller, fender, gutter, waterproof cover, nozzle, etc.
3. The bearing block is made of high and new cast iron and has a fully sealed structure.
4. Adopt high strength, good water permeability, not easy to block, easy to clean, easy to disassemble, and install the high-quality filter screen.
5. The selection of filter mesh according to the different physical characteristics of the sludge.