Sand Rotary Screening Plant for Sand Gravel Processing
Sand rotary screening plant is often used for the classification and screening of medium and finely divided materials. In the quarry, it can be used for the classification of large and small stones, and the soil and stone powder outside the stone can be separated. In the chemical industry and coal industry, it can also be used for screening of bulk materials and powder materials.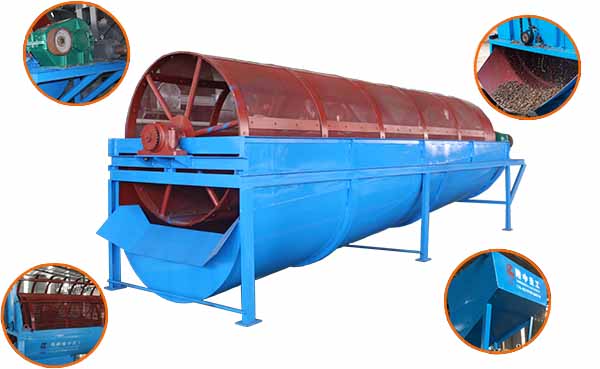 The GTS sand rotary screening plant produced by our company is composed of drum, frame, funnel, reducer, motor and other parts. After the broken stone enters the drum, the material is sieved by the centrifugal force and jigging of the drum. Sieve out one by one through different screens. After the stones of different specifications are screened out, they are dropped into the belt conveyor through the funnel and sent to the finished product yard. On the one hand, the stone with large particle size flows forward along the slope of the drum, and is gradually screened out through the screens of different meshes. The small stones are sieved out and fall into their respective hoppers, and then they are transported by hand or by gravity to the finished product pile.
Wide application, can be customized
Widely used in the classification of materials in mining, building materials, transportation, energy, chemical and other industries. LZZG can customize rotary drum screen with various specifications and various vibration modes according to the actual situation of different users.
Great screening efficiency
The small installation angle make the rotary screen is not easy to be blocked. During the operation, the screening effect is good and the production efficiency is high.
Large screening capacity
In the same size, the area of the circle is larger than that of other shapes, so the sieve area is larger. It can make the material fully contact the sieve, so the sieve amount is large per unit time.
Long service life, less maintenance
Sand rotary screening plant is composed of several circular meshes, the total screening area is much larger than the screening area of other screen types, coupled with high screening efficiency, short equipment running time, so long service life and wearing parts Less maintenance.
Low noise, efficient and environmentally friendly
The rotary screen adopts a new design concept, and there will not be too much noise during operation, which conforms to national standards. In addition, less dust pollution and high screening efficiency save investment costs to a certain extent.
Simple and diverse feeding methods
The feed inlet of the drum screen can be designed according to the actual site. Whether it is a belt, a hopper or other feeding methods, no special measures are required to smoothly feed.