Trommel Screen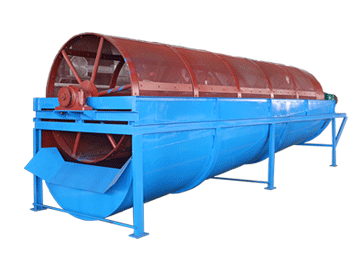 Brief introduction
The trommel screen, also known as a rotary screen, is a mechanical screening machine used to separate materials by particle size , mainly used in the mineral and solid-waste sorting industries.
LZZG trommel screens are designed to minimize setup time and be easy and convenient to service. We have perfected the ability to size and customise trommel screens with different materials to suit the application, such as the patented product trommel sand washer.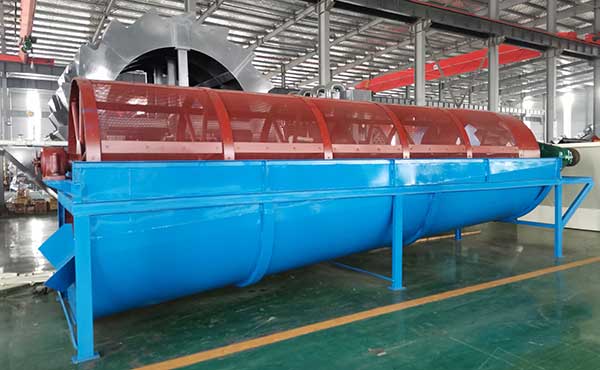 Working principle 
Trommel screen consists of Motor, Gear, Screen Plates, Supporting Frame, Inlet & Oulet. The trommel drum cylinder is tilted on the rack. The motor is driven by the reducer to rotate the drum unit around its axis.
After the material enters the drum device, due to the tilting and rotation of the drum device, the material on the screen surface is flipped and rolled, agglomerated materials crushing, and meanwhile the materials blocked in the screen mesh can be ejected to prevent the sieve hole from blocking. So that the qualified material (the product under the screen) is discharged through the discharge port at the bottom of the trommel screen, and the unqualified material(the product on the screen) is discharged through the discharge port at the tail of the trommel screen.
Technology Advantages
1. The screen mesh is not easy to block.
2. Running smoothly and the noise is low.
3. The structure is simple and the maintenance is convenient.
4. The trommel drum cylinder can be closed, and easy to collect dust.
5. Various plate and mesh sizes.
6. Screen drums made to customer specification.
7. Capacity: 30-500TPH are on sale now.
| | | | | | | | | | |
| --- | --- | --- | --- | --- | --- | --- | --- | --- | --- |
| Model | Sceen size (m) | Angle (°) | Rotational speed (r/min) | Mesh Size (mm) | Max feeding size (mm) | Capacity (t/h) | Power (kw) | Weight (kg) | Dimension (mm) |
| GT1030 | φ1.0*3.0 | 6 | 22 | 5-15 | ≤40 | 30-100 | 4 | 1300 | 4500*1358*2336 |
| GT1040 | φ1.0*4.0 | 6 | 22 | 5-15 | ≤40 | 30-100 | 4 | 1500 | 5500*1458*2336 |
| GT1230 | φ1.2*3.0 | 6 | 22 | 5-15 | ≤40 | 30-150 | 5.5 | 1500 | 4500*1585*2478 |
| GT1240 | φ1.2*4.0 | 6 | 22 | 5-15 | ≤40 | 30-150 | 5.5 | 1700 | 5500*1685*2478 |
| GT1540 | φ1.5*4.0 | 6 | 17 | 5-15 | ≤40 | 30-200 | 7.5 | 2500 | 5800*2100*4400 |
| GT1560 | φ1.5*6.0 | 6 | 17 | 5-15 | ≤40 | 30-200 | 11 | 2700 | 6800*2200*4400 |
| GT1860 | φ1.8*6.0 | 6 | 11 | 5-15 | ≤40 | 30-250 | 18.5 | 5010 | 8486*2100*4673 |
| GT2160 | φ2.1*6.0 | 6 | 10 | 5-15 | ≤40 | 30-250 | 22 | 6360 | 8486*2500*5000 |
| GT2460 | φ2.4*6.0 | 6 | 9 | 5-15 | ≤40 | 30-300 | 22 | 7000 | 8486*2860*5200 |
| GT2480 | φ2.4*8.0 | 6 | 8 | 5-15 | ≤40 | 30-300 | 22 | 7500 | 8700*2860*5700 |