Kaolin Washing Process and Machine
The kaolin washing process is generally used for soft kaolin and sandy kaolin. The raw kaolin ore is broken up under the high-pressure impact of water or pulped by tamping. The slurry is pumped into the screw classifier to remove sand and then sorted with a hydrocyclone. The sorted coarse concentrate is separated into paint grade and filler grade products by the horizontal spiral centrifugal classifier. Coating grade products are shipped out after magnetic separation, bleaching, pressure filtration, drying, and packaging; filler grade products are shipped out after pressure filtration, peeling, drying, and packaging.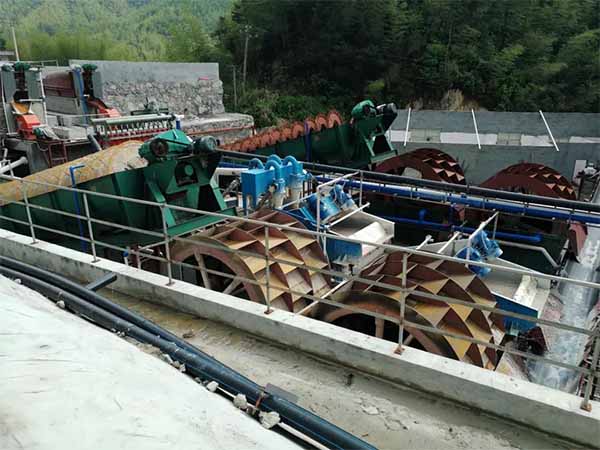 Main processing technology of kaolin
Kaolin processing technology generally includes beneficiation purification, ultra-fine crushing, calcination, and surface modification. The original kaolin ore contains kaolinite minerals as the main components, and there are a small number of impurities such as montmorillonite, quartz, and illite to varying degrees. Therefore, kaolin used as a mineral filler must be beneficiated and purified. The beneficiation process of kaolin depends on the type of ore. Different beneficiation and purification processes are adopted for soft kaolin, sandy kaolin, and hard kaolin.
Kaolin washing process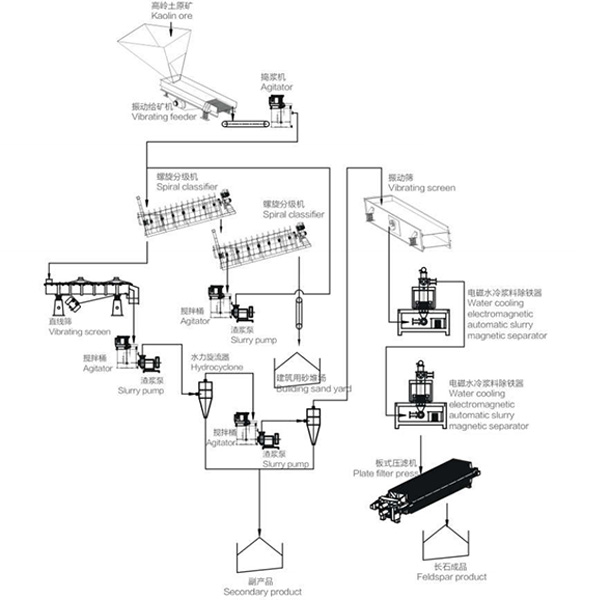 Pulping
The original ore is added with water and dispersant according to the set concentration and is pulped in a mixer or a pulper. The purpose of pulping is to disperse kaolin and separate it from sandy minerals and plant impurities, so as to prepare a slurry of suitable concentration for the next process.
In the raw kaolin ore, the particle size of quartz, feldspar, mica, and other impurities is relatively coarse, generally larger than 325 mesh. The kaolin has a finer particle size, mainly concentrated in -2μm. The spiral classifier can remove most of the quartz and feldspar coarse sand.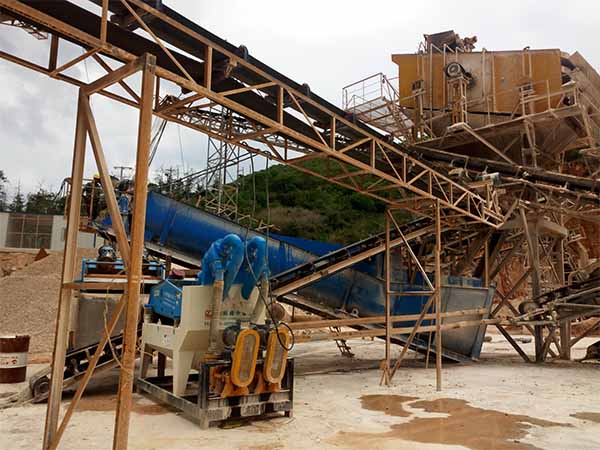 Hydrocyclone separation
Using hydrocyclone to separate and remove fine sand and other impurities. Generally, hydrocyclones with different diameters such as Ø75, Ø50, and Ø25 are used for multiple sorting.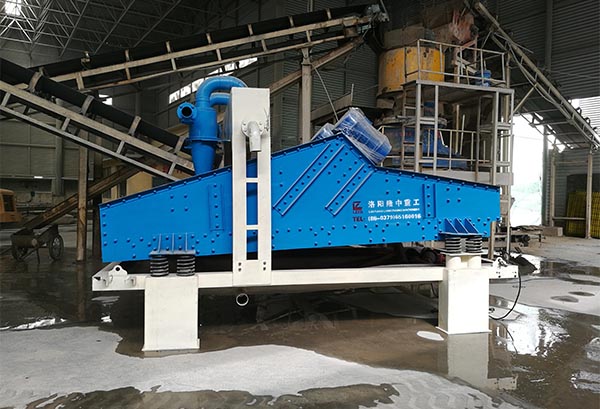 Magnetic separation
To obtain high-quality kaolin, magnetic separation is required in most cases. The mineral impurities in kaolin, such as limonite, hematite, siderite, pyrite, anatase, rutile, etc., all have weak magnetic properties, so the kaolinite after sand removal can be further processed by a strong magnetic separator or high gradient magnetic select the machine for magnetic separation.
Whiten
The chemical bleaching of kaolin is often related to the performance of kaolin and the impurities contained. Impurities that affect the performance of kaolin are mainly iron minerals, titanium minerals, and organic matter. Commonly used chemical bleaching includes reduction method, oxidation method, oxidation-reduction combined bleaching method, acid leaching treatment method, etc.
Pressure filter
Using high-pressure slurry feeding to improve productivity, ensure product moisture is less than 32 to 35%, save energy consumption, and improve the working environment.
Drying process
Powerful drying can be used.