How to Solve The Malfunction of Rotary Drum Screen
Rotary drum screen is a new type of solids material classifying equipment, which can be used in chemical industry, coking plant, mine, power plant, building materials, metallurgy and other industries. It is mainly composed of inlet and outlet, motor, reducer, frame, roller device, etc. The previous article talked about the problems that the drum sieve will encounter during the work. Today we will talk about the measures to be taken when the drum sieve fails.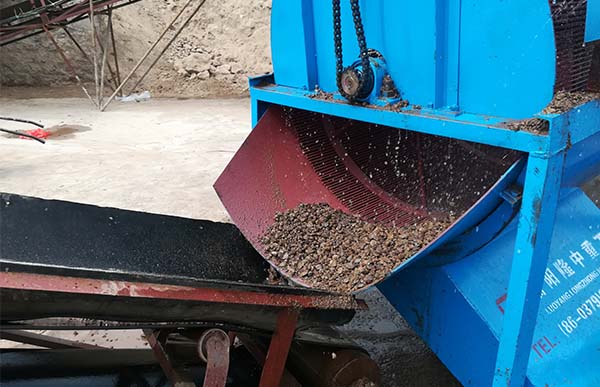 1. Change the shape of the square septa
In order to enable the comb plate to penetrate into the sieve ring and achieve the purpose of effectively cleaning the sieve barrel accumulation. By changing the shape of the square septum connected by the coupling shaft and the screen ring, the defects affecting the installation depth of the comb plate can be eliminated. The depth of the comb plate penetrating into the sieve ring is increased from the original 4-5mm to 12mm, and the depth of the sieve ring passing through the sieve ring is 2mm.
2. Increase the coupling shaft strength
20mm fixed steel plate can be added to the fixed position of the roller shaft coupling shaft at the entrance and exit of the screen cylinder to increase the connection strength and reduce the torque. And in order to prevent the material from abrading the coupling shaft, 10mm protective steel plates are added to both sides of the coupling shaft at both ends of the screen cylinder to protect the coupling shaft from being washed away by coal flow.
3. Extend the width of the feed ring
In order to prevent the material from directly impacting the screen ring at the feeding end when the material enters the screen cylinder, which causes the problem of severe wear of the screen ring. Therefore, the method of removing part of the sieve bar at the feeding end of the screen cylinder and appropriately widening the rolling ring (actual measurement on site) is adopted, so that the material falling point avoids the screen ring that is easily worn and deformed, and falls on the extended rolling ring steel plate. . It avoids the impact wear on the screen ring and facilitates the later wear repair.