Guangdong Mobile Sand Washing Line Project Put Into Operation
Recently, Longzhong has opened several production lines in Guangdong. A building materials company in Jiangmen chose to cooperate with Longzhong Heavy Industry to build a 200-ton-per-hour screening, cleaning, and recycling project, which is now running stably. Foshan's mobile sand washing station has also reached its expected construction goals. The output, finished sand quality, particle gradation, and specifications have all been well received by customers.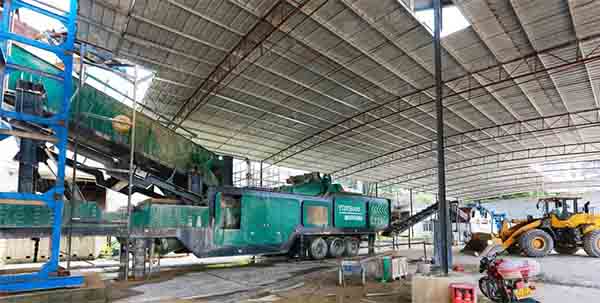 1. Jiangmen 200 tons/h sand screening and cleaning plant
Processing capacity: 200t/h
Cleaning materials: machine-made sand
Treatment process: screening + double cleaning
Equipment configuration: circular vibrating screen, spiral sand washer, double-wheel sand washing integrated machine, etc.
The advantages of sand washing plant
a. The finished sand has reasonable gradation, adjustable fineness modulus, and high quality.
b. The finished machine-made sand has reasonable gradation, adjustable fineness modulus, and greatly improved quality.
c. Since the project was put into operation, it has continued to provide high-quality sand and gravel aggregates for local construction, effectively promoting local economic development. Longzhong will continue to adhere to innovative development, promote high-quality transformation and development of the sand and gravel industry, and serve the national infrastructure construction.
2.  Longzhong YD mobile sand washing station
Recently, the mobile sand washing station in Guangdong was officially put into production. Faced with the shortcomings of the fixed production line being unable to transfer and the installation of equipment foundation being troublesome, Longzhong R&D engineers carefully designed the practical and sensitive YD series tire mobile sand washing station, which was born. This product has received numerous customer orders one after another.
The project consists of a mobile sand washing station and a two-wheel sand washing and recycling machine with an hourly output of 100t/h. The process flow is complete and the equipment is light and flexible. After screening, cleaning, and recycling, the raw materials became high-quality sand and gravel aggregate, filling the market gap in local infrastructure materials.
The advantages of mobile sand washing station
A. Reduce the transportation cost of raw materials and avoid secondary pollution.
B. The whole machine includes a screening device, a washing device, and a dehydration and recovery device. It can operate independently or be matched with other equipment, and is highly practical.
C. The sand produced is of high quality and reasonably graded, meeting the higher sand demand.