LZZG Conducts Technical Service Return Visit To Indonesian Customers
Recently, at the invitation of a customer in Kalimantan, Indonesia, Longzhong's technical service team composed of foreign trade personnel, technical personnel, and after-sales personnel went to the customer's site in Indonesia to conduct technical service visits and secondary sales.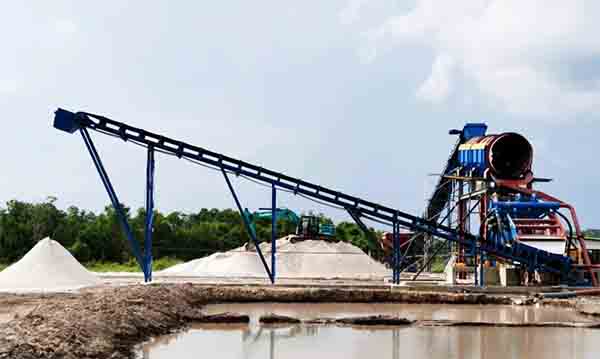 After the arrival of Longzhong's technical team, the Indonesian customer organized project staff to hold a quartz sand equipment discussion meeting. Communicate in-depth with the Longzhong team about the current equipment operation status and existing processes and technical problems. Subsequently, the Longzhong technical team went to the customer site for an on-site visit. By observing the quartz sand raw materials and the operation of the equipment, we gained a detailed understanding of the existing technical problems. In response to the main problems, we started from the aspects of equipment operation specifications and process parameter settings to improve the equipment operating efficiency and stability and solve practical difficulties for customers. After several days of process adjustment, the efficiency of the customer's quartz sand production line has been significantly improved.
Project description
This production line is a "quartz sand screening, cleaning, dewatering, and recycling" project with an output of 150 tons per hour. The production line is mainly composed of feeder, drum screen, wet magnetic separator, dewatering fine sand recovery machine, and other equipment.
Quartz sand washing plant process flow
The raw materials pass through the belt conveyor to the drum screen for impurity removal, and a magnetic separator is installed behind the drum screen to remove iron. The magnetically separated fine materials are transported to the designated location by a belt conveyor. The iron-free materials flow into the dewatering fine sand recovery machine by gravity. With the cooperation of the dewatering screen and the cyclone, the recovery and dehydration operations are completed.
Project return visits and technical service work are an important part of the company's services. Efficient and high-quality technical service work can not only bring a perfect conclusion to the end of the project, but also open up new development opportunities based on high-quality customer relationships and good industry reputation.