Oily Sludge Separation System Delivery to Xinjiang
The oil sludge separation equipment mainly processes oil sludge by concentrating and dehydrating it, reducing the oil content, and then landfilling or other treatment. Recently, LZZG's first oil sludge separation equipment was sent to the Xinjiang oilfield project site to help the customer's project construction advance steadily.
Oil sludge is produced during the development and transportation of oil, as well as during the sewage treatment process during refining. The oil sludge separation equipment provides an oil sludge treatment process that purifies oil sludge pollutants. Add water to the sludge pollutants into the mixer and stir thoroughly to separate the oil and sediment and float on the liquid surface. Then remove the oil floating on the liquid surface and discharge the mixture of sediment and water. The oil content of the products treated by this process, especially the difficult-to-treat mud components, is less than 5 parts per thousand, which complies with national emission standards. This process can achieve the complete separation of oil, mud, and sand from the sludge pollutants, realizing the harmless treatment of the sludge pollutants and the recycling and reuse of resources.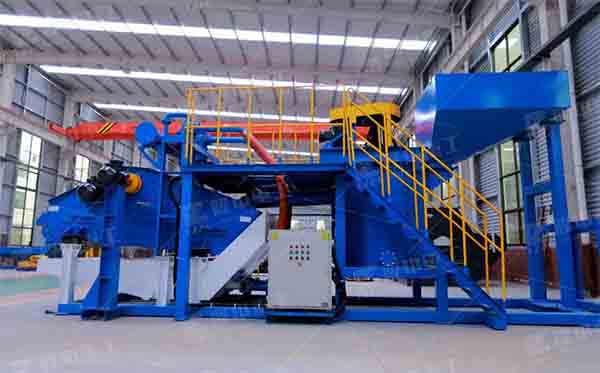 The sludge separation equipment combines the full stirring of the scrubber, centrifugal separation, and the dehydration recovery of the dewatering screen and other technical processes. The four phases of oil, mud, sand, and water in oily sludge are effectively separated. It has reached relevant national emission standards and also generated economic benefits for the company.
The oil sludge separation equipment working process
The material flows into the scrubbing machine under the flow of water surrounding it on three sides, and is fully stirred, scrubbed, and dispersed in the scrubbing machine. Then it enters the dehydration screen for dehydration at the feed end, and the material on the screen is fully dehydrated during the process of moving to the discharge end at a uniform speed. The under-screen material enters the under-screen water tank, and is pumped by the slurry pump to the cyclone for fine sand recovery. After the cyclone is concentrated and separated, it falls into the feed end of the dehydration screen from the bottom outlet of the cyclone to start dehydration, and dehydrates with the material on the screen to produce finished sand.
The oily sludge separation features
Easy installation
The oil sludge separation equipment integrates equipment such as a silo, a scrubbing machine, and a dehydration fine sand recovery machine. Compact and reasonable structural design, integrated structure, small footprint, easy installation, no special installation foundation required.
Environmental friendly
Longzhong heavy industry sludge separation equipment is of great significance for waste treatment. It can be used for reduction treatment, energy saving and emission reduction, waste utilization, and efficient recycling. It is in line with the current national requirements for the environmental protection industry.