Aggregate Washing Machine Demonstration
As an indispensable main raw material in building concrete, sand aggregate plays a very important skeleton and supporting role in buildings, so it is called aggregate. The production line for the production of aggregate is the sand aggregate production plant. This line is popular for transporting aggregates to various industries in a long-term and stable manner.
Aggregate, a granular loose material that acts as a skeleton or filler in concrete. Because it plays a skeleton and supports in the building, like the bones of the human body, it is called aggregate. When mixing the cement, the cement is mixed into a thin paste. If it is not added, it will not be formed, which will make it unusable. Therefore, aggregate is an important raw material in the building.
Classification of aggregates
Coarse aggregate: Also known as stone, it refers to aggregates with a particle size greater than 4.75 mm, mainly consisting of pebbles and artificial gravel. Pebble is a nearly circular or elliptical rock naturally formed by natural weathering or water flow handling: crushed stone is mainly made by mechanical crushing and screening. According to the different applications, the raw materials can be various types of rocks such as limestone, bluestone, river pebble, granite and basalt.
Fine aggregate: Also known as sand, it refers to aggregates with a particle size of less than 4.75 mm, mainly natural sand and artificial sand. Natural sand is river sand, lake sand, mountain sand and sea sand after desalination; The artificial sand passes through a sand making machine and breaks the rock into particles like natural sand. Its raw materials are like gravel, and you can choose all kinds of rocks according to its use. Its raw materials are like gravel, and you can choose all kinds of rocks according to its use.
Sand aggregate production plant
Jaw crusher: crushing the block stone to small particles, and transfer to secondary crushing equipment by belt conveyor.
Impact crusher: crushing the gravel to meet the requirements of the finished material, through the conveyor belt to the vibrating screen.
Vibrating screen: The broken materials are screened into different part finished materials with different particle size. The unqualified materials are separated through the vibrating screen and then transported by the conveyor belt to be broken in the second break cycle.
Sand making machine: broken materials continuously to smaller size to produce of sand.
Sand washing machine: washing the finished sand and remove the impurities to get high quality finished sand.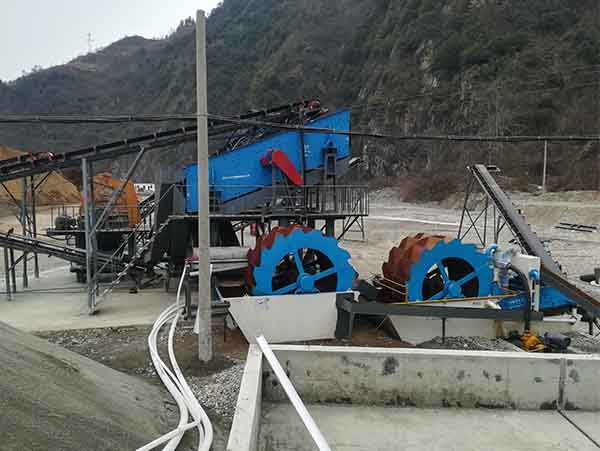 Luoyang Longzhong undertake various of sand and stone aggregate production line equipment configuration, equipment performance superior, reliable quality, the whole production line energy saving, high efficiency, high degree of automation.