Aggregate Sand Washer in Sri Lanka
The aggregate sand washer is widely used in the desliming and screening operations of a large amount of sand and gravel used in construction sites, sand and gravel plants, prefabrication plants and hydropower sites, and can also be used for ore separation operations. It can effectively process materials within 0-30mm, and can separate the soil and ash on the materials into clean materials. This aggregate sand washers have the advantages of high washing efficiency, simple structure and convenient maintenance.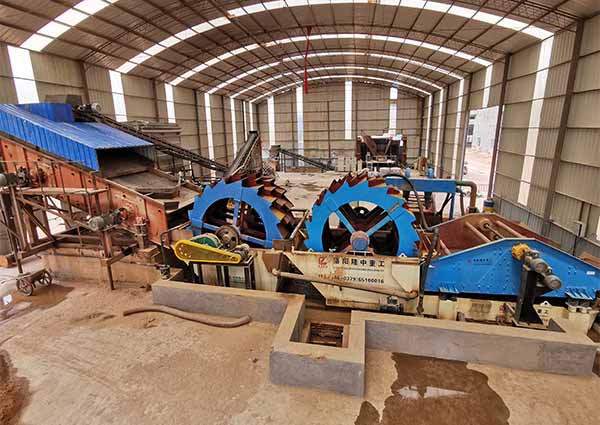 The aggregate sand washer's cleaning requirements for sand and gravel materials are mainly determined according to the mud content, particle size of the materials and the cleanliness to be achieved. If the sand and gravel contains large non-ore-bearing waste rock, then it is necessary to wash the ore to make the fine part of the demineralization and then conduct ore dressing; If the sand itself contains too much mud, resulting in crusher, sieve and silo mouth blockage, resulting in the production can not proceed smoothly, this situation can be used to wash the method to solve.
Does the machine-made sand have to be washed with water?
Yes. The current sand making process still uses large stones to be coarsely crushed, medium crushed, and finely crushed into fine sand. But it is inevitable that a certain amount of stone powder will be produced in all links of the production process. These stone powders do not meet the standards of construction sand and need to be removed, which requires a sand washer to clean sand and remove impurities.
Does the aggregate sand washer consume a lot of water?
The aggregate sand washer cannot do without water during the cleaning operation, and uses water to take away impurities such as mud and dust. Generally, the greater the amount of cleaning materials, the greater the water consumption, and the larger the water consumption, the better the cleaning effect. The ratio of sand to water is 1:1 to 1:1.5. Users can also increase or decrease the amount of water according to the actual situation. For example, the particle size, powder content of sand, and the proportion of finished products are all factors that affect the water demand. The wastewater discharge by sand washing machine can be recycled, and an additional sedimentation tank is added to realize the reuse of water, which has good energy-saving and environmental protection effects, and reduces the user's production cost.