Screw Wheel Sand Washer with Big Capacity
Screw wheel sand washer with big capacity is a kind of sand gravel washing equipment, which widely used in quarry, mining, construction, transportation, chemical industry, water conservancy and hydropower, concrete mixing station and other industries for washing and dewatering materials. However, for sand with high mud content, the cleaning effect is not good. Based on the original equipment, LZZG has developed a big capacity multifunctional screw wheel sand washer. It consists of three parts: screw sand washer, wheel sand washer, dewatering screen, especially suitable for the cleaning and dehydration of sand and stone with high mud content or relatively viscous mud.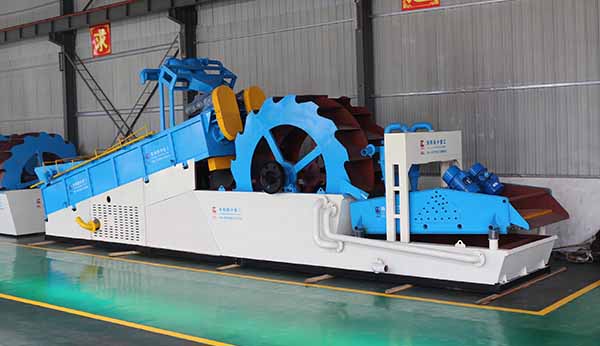 The screw wheel sand washer is the representative equipment of the new technology in the current sand making and washing equipment. As the mainstream sand washing equipment, it is favored by the majority of sand making owners. The achievements in artificial sand production are obvious to all. The new spiral sand washer can be seen in many engineering projects and sand production lines. After optimized design, the material throughput is increased by about 30%. In addition, the screw wheel sand washing machine has low noise and no pollution, which greatly reduces the amount of dust, which is beneficial to environmental protection and is an economical sand washing equipment.
Working principle
After the sand gravel are classified by the screening equipment, qualified products flow into the spiral sand washer through the chute. After being fully cleaned, soaked and stirred by the spiral sand washer, the mud-water mixture is discharged into a section of separation device for concentration and classification; sand and gravel enter the wheel washer for cleaning; After cleaning, the tail water is discharged into the two-stage separation device for concentration and classification; the sand and gravel enter the vibrating dewatering screen. Under the action of high-frequency vibrating motor, the sieve acts as a high-frequency vibration to fully dehydrate the material, and then is transport to form the stock pile by the conveyor belt.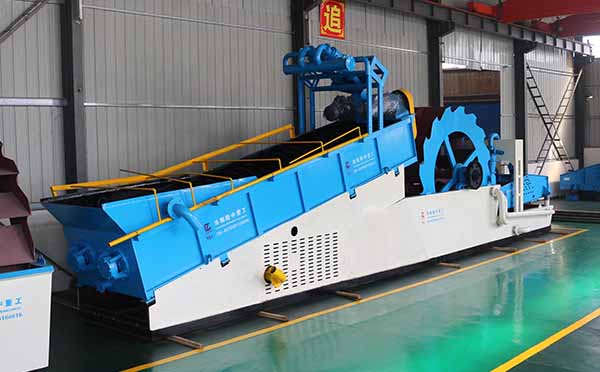 Performance
1. The finished product rate of sand washed out by DS series is as high as 98%.
2. Twice cleaning especially for high mud content materials.
3. Dewatering screen further reduces the moisture content and mud content of the finished sand.
4. Reasonable internal waterway design, and the functions of cleaning, recycling and backwashing are stable.
5. Fine sand recycling from muddy waterr improves resource utilization.