The Application of Sand Recovery System in River Pebble, Crushed Sand, Weathered Sand
The application of sand recovery system in river pebble, crushed sand, weathered sand and more is very common. Sand recovery system is mainly composed of five major components such as cleaning tank, slurry pump, cyclone, vibrating screen, and return box.

Application of sand recovery system in river pebbles sand production
River pebbles have high hardness and large amount of soil and mud, and a certain amount of fine sand will be produced during the sand making process. Therefore, a large amount of fine sand will be lost during the sand washing process, which not only affects the gradation of the machine-made sand but also wastes resources. The fine sand recycling machine can effectively solve the loss of fine sand and the gradation of the finished sand.
The high hardness of the river pebble will cause serious wear on sand recovery machine, so the selection of fine sand recycling machine should also consider the wear resistance of the components. In general, the river pebble sand recovery system adopts a wear-resistant and shock-resistant polyurethane bottom plate with a pore size of 80-100 mesh, and the exciter uses a low-speed adjustable excitation motor. In order to make the dewatering effect of the fine sand recovery machine good, the tilt angle of the vibration sieve is controlled at about 3-4°.
Application of sand recovery system in weathered sand
Weathered sand is metamorphic rock exposed on the surface of granite, which has the characteristics of being fragile, high in mud and mica. The national building sand standard requires that the content of Class 1 sand mica is less than 1%, and that of Class 2 and Class 3 sand mica is less than 2%. The fine sand recovery system can effectively reduce the content of mica and recycle the lost fine sand. The recovered fine sand is mixed with finished sand again. This can not only change the gradation of the finished sand but also reduce emissions to the environment, and turn waste into treasure.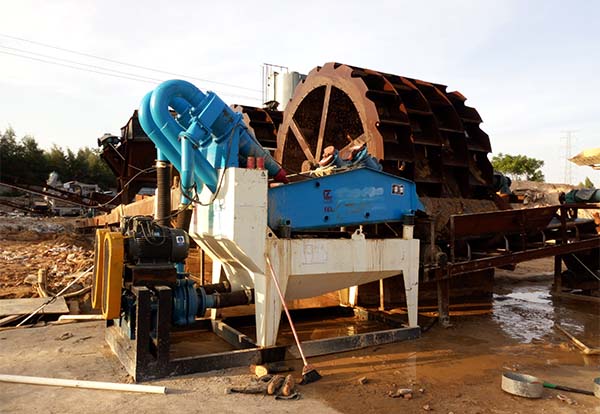 Application of sand recovery system in crushed sand
In the production process of machine-made sand, there is usually the problem of fine sand loss. This will not only cause serious loss of raw materials for sand manufacturers, but also seriously affect the gradation of sand, resulting in unreasonable gradation and coarseness of fineness modulus, which greatly reduces the quality of sand products. Moreover, excessive fine sand discharge will also cause environmental pollution, which is not in line with modern environmental protection concepts. So in general, in the process of artificial sand production, the fine sand recovery system will be equipped to solve the problem of fine sand loss.