Silica washing machine
Silica sand is simply defined as sand containing silicon, which is one of the most common materials for the manufacture and processing of sand, especially for the manufacture of glass. It is mainly obtained from silica or quartz stone through series crushing and sand making. And also be widely used in the industries of casting, ceramics, metallurgy, chemicals, plastics, rubber, abrasives, etc.
Silica processing is the process of crushing, sanding, sieving, washing. The wet silica sand process is more mature than dry process, and final products are cleaner. Silica sand production line mainly includes: vibrating feeder + jaw crusher + impact crusher + circular vibrating screen + sand making machine + belt conveyor + dust collector + silica washing machine. For the choice of silica washing machine, bucket silica washing machine and spiral silica washing machine both can also be used.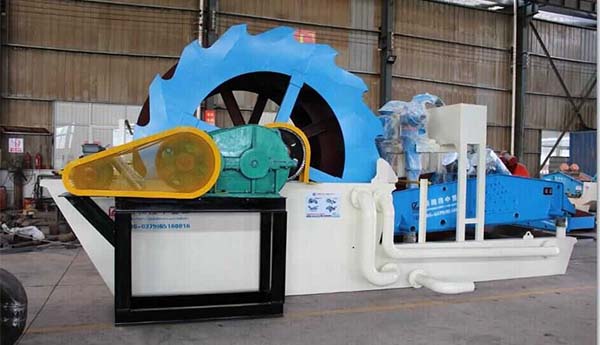 When silica washing machine is working, the sand and gravels fed into washing tank trough into the washing tank, which is tumbling under impeller and grinds each other to remove the impurities covering sand and gravels, and destroy the water vapor layer of coated sand to facilitate dehydration; at the same time add water to form a strong water flow, timely remove the foreign matter with small impurities and specific gravity, and discharge it from the overflow port to complete the cleaning. The clean sandstone is taken away by blades, and finally the sandstone is poured from the rotating impeller into the discharge chute to complete the cleaning of the gravel.