Lzzg Cooperated With Philippine Customers Twice For Sand Washing Production Line
First Cooperation
In 2019, in order to better optimize the production line and reduce the cost, the customer in the Philippines chose LZZG to construct a sand screening, washing and tailwater purifying production line with an hourly production of 150 tons of finished sand. The production line is mainly used for classifying and cleaning large particles in the process of stone powder production, recovering fine sand, purifying tail water and disposing solid waste (mud) in dry heap.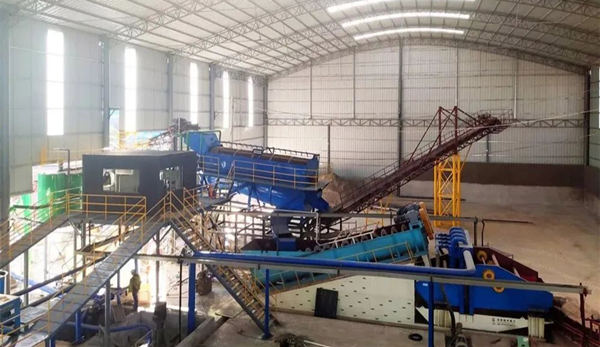 Second Cooperation
In 2022, the Philippine customer signed a second sand screening, washing and tailwater treatment production line with LZZG again. At present, the equipment has been installed and put into production smoothly within one month. The production line focuses on green production. The plant is fully enclosed, equipped with dust removal and sewage treatment system. The original stone powder cleaning, tail water recovery line, and the installed sewage treatment line cooperate with each other, greatly improving the production capacity. The second production line adds two thickener, four side filter press and other equipment, greatly reducing the non-essential equipment input, while meeting the production needs of customers.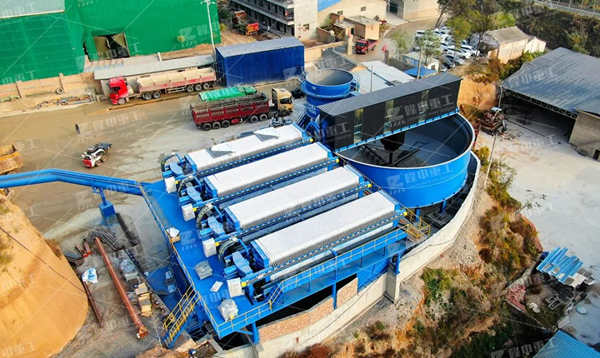 Working Process
1. The stone powder enters trommel screen, and after rotation, the qualified particles are discharged the bottom of the trommel screen.
2. Sand and gravels fed into washing tank of sand washing machine with water. Then is rubbed to washing to remove the impurities mixed into sand and gravels when impeller rotating. Then the washed sand is fed onto dewatering screen.The overflow of washeris driven into separator by slurry pump to be separated by hydrocyclone. After recycling, 0.074-3mm fine sand is discharged to dewatering screen and mixed into coarse sand uniformly to dehydrate.
3. The sediment suspended contentdischarged into tailing water tank, then is pumped into thickener for mud-water separation. The thickener treats about 80% of muddy water into clean water, then directly enters clear water pool through overflow port.
4. Concentrated mud is pumped into chamber press filter from the bottom of thickener, then be pressed  into mud cake and realized dry pile. These dry mud cake can as  landfill or develop other uses. After pressing process, clean water is discharged to clear water tank to realize the reuse of clean water and zero discharge of entire process.
5. Stones and sand are effectively screened, washed and dewatered in this plant, and muddy water can be recycled use. Lots of avantages of this entire production line has: excellent continuous working performance, convenient maintenance, long service life, easy movement and excellent effects. At the same time, it save resources, reduce water consumption, and ensures no pollution and meets environmental protection requirements.
LZZG's service concept of "quick response, accurate and efficient, reasonable and thoughtful" is implemented throughout the project, which is another important reason for customers to choose Longzhong again. On-site investigation, sample analysis, within 24 hours to provide customers with personalized solution design, accurate solutions to customer needs. The equipment is delivered quickly, and engineers are present for installation, commissioning, guidance and maintenance to improve project efficiency. Regular return visit, solve the production line operation problems, completely eliminate the worry.