How To Develop A Reasonable Flotation Reagent System?
In the process of flotation beneficiation, the reagent system includes the reagent type, dosage, adding method, and location. In production, the satisfactory flotation index largely depends on the use of correct reagent system, especially for polymetallic ore or complex refractory ore.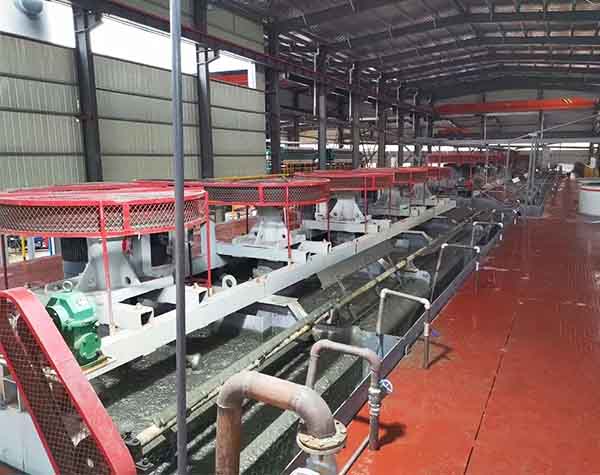 1. Start by flotation the minerals that float easily. After flotation of minerals difficult to float. That is, suppress minerals with poor buoyancy or easily inhibited, do not suppress minerals with good buoyancy or difficult to inhibit. For example, in lead-zinc sulfide ores, the main useful minerals are galena and sphalerite. Galena has better floatability than sphalerite. It is difficult to restrain galena, but it is easy to restrain sphalerite. Therefore, the flotation of galena from sphalerite can be inhibited first.
2. When the floatability of two minerals is similar, fewer minerals should be surfaced first, and more minerals should be suppressed. It is easy to get a better flotation index. For example, in copper-lead-zinc-sulfur polymetallic ores, the main useful mineral compositions are chalcopyrite, galena, sphalerite, and pyrite. Chalcopyrite and galena both have good floatability. Therefore, the two minerals often surfaced at the same time to obtain a copper-lead mixed concentrate, which is then separated.
3. Flotation of minerals with high value first, or flotation of minerals with high concentrate quality requirements first. Flotation of high-value minerals first, inhibits low-value minerals. This reagent system is easier to achieve the purpose of flotation and obtain better economic benefits. Flotation concentrate with high-quality requirements of minerals, inhibit concentrate with low-quality requirements of minerals. This reagent system is often suitable for ore separation which requires higher concentrate quality.