How Does The Sand Washing Machine Survive The Winter Safely?
The working effect of the sand washing machine directly determines the operating efficiency of the sand washing machine. Therefore, the repair and maintenance of the sand washing machine is a very important daily work, especially in winter. Compared with other seasons, the sand washing machine may aggravate problems such as wear, loosening of the link, and corrosion of the metal structure in winter, which will cause the technical performance, efficiency, effectiveness, and safety of the sand washing machine to decrease. The operator of the sand washer should also ensure that the equipment is cleaned daily to prevent the sand washer from being "frozen" due to impurities and causing the body to corrode, rust, even block, and wear.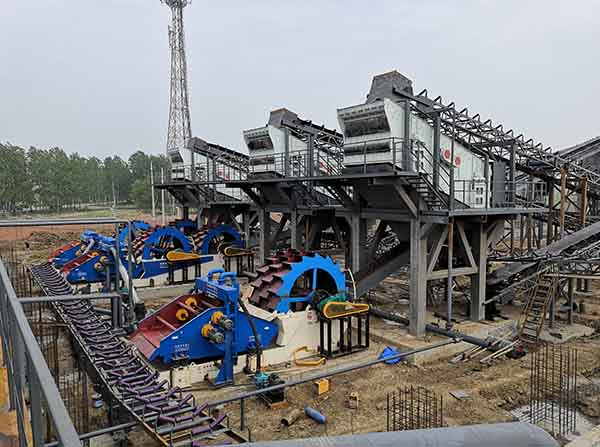 During operation of sand washer in winter
1. The sand washing machine needs to be preheated in advance when it is turned on. If the sand washer is not preheated, it cannot be started or cannot work normally.
2. Consider the factors of thermal expansion and contraction. Operators need to tighten the screws of the main parts of the sand washing machine from time to time, and check the main bearings, cylinders, reducers, large and small gears, and other important parts at the same time.
3. Check whether there is ore leakage at the barrel and bolt connection of the sand washing machine.
The sand washing machine stopped running
1. The material should be poured out in advance to avoid deformation and bending of the sand washer cylinder and the material from being crusted into blocks.
Sand washing machine lubrication
In winter, the temperature is low, the viscosity of the lubricating oil and grease increases, and the fluidity decreases, which has a greater impact on the lubrication effect of the sand washer.
1. Use low-oil grade lubricating oil, oil quality is thinner, and better fluidity can be ensured at lower temperatures.
2. At the beginning of winter, all lubricating oil should be discharged when the sand washing machine is put into continuous operation for one month, thoroughly cleaned and replaced with new oil.
3. Equipped with large and small gear spray lubrication system to enhance the lubrication effect, reduce gear wear and ensure a stable lubrication state.
4. Before adding new lubricating oil, filter the new lubricating oil.