Dewatering screen working principle
Dewatering screen working principle is to use its own multiple frequencies for dehydration. Dewatering screens are mainly used in coal, metallurgy, nonferrous metals, electric power, water conservancy, building materials, light industry and chemical industries for dry or wet classification, dehydration, de-intermediation, and desliming of fine-grained materials.
It has the characteristics of energy saving, environmental protection, low carbon and green, which meets the requirements of building a sustainable society.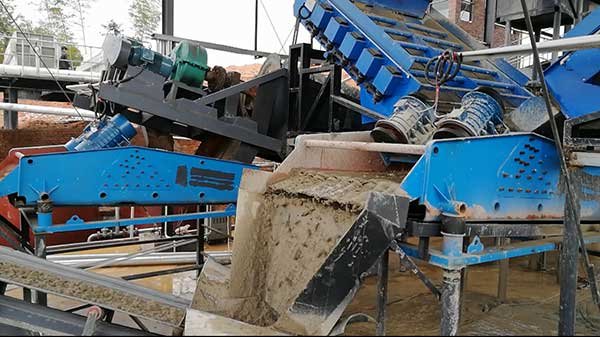 How it works?
Dewatering screen adopts dual motor self-synchronization technology, universal eccentric block and adjustable amplitude vibrator. It is mainly composed of screen box, vibration exciter, support system, screen panels and motor.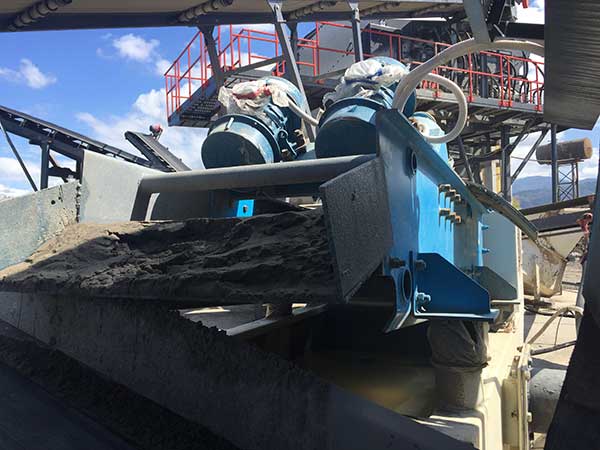 The main part of dewatering screen is upwardly offset in the horizontal direction, and the rear part of screen is at a 45-degree angle with main board. Two balanced vibrating motors are mounted horizontally. The unbalanced gravity generated by rotation produces a turning effect to ensure dewatering screen stabilizes the work and minimizes noise.
Moreover, the dewatering screen panel is embedded for easy installation and partial replacement.
If you want to design a dewatering screen, please learn waht is dewatering screen.
Download catalog:dewatering screen design
Dewatering screen working video
A pair of vibration motor with the same performance parameters is aopted as driver. When two vibrating motors are synchronously and reversely rotated, the exciting force generated by eccentric block cancels each other in a direction parallel to motor axis, and stack a combined force in the direction of perpendicular to the motor shaft.
So the movement of screen is a straight line. The two motor shafts have an inclination angle with respect to screen surface, and under the combined excitation force and material self-gravity, the material is driven to be jumped forward on the screen surface and linearly moved forward, and the portion smaller than the sieve hole or water during the beating process is dropped through sieve hole.
The rest is discharged from discharge end to achieve the purpose of screening and classifying. The highest screening mesh number is 350 mesh.
LZZG according to the different applications of customers, the dewatering screen capacity and sizing are customizable as per the requirement, we provide a large range of sizing.