Sand dewatering screen manufacture from China
Sand dewatering screen has low investment cost, low energy consumption, small floor space, little loss of fine sand and remarkable economic benefits compared with washing equipment such as sand washing machine,  so the sand dewatering screen is commonly used in sand prouction line. It can be used alone for materials with low mud content and can also be used with sand washing machine for wet sand production line, for secondary cleaning and dewatering of sand, which greatly improved sand quality.
The high frequency sand vibration dewatering screen is a linear vibrating screen driven by a double motor, with an eccentric vibrator and a vibration frequency of not less than 24HZ. It is mainly composed of screen box, vibrator, motor, motor seat, screen, damping device and so on.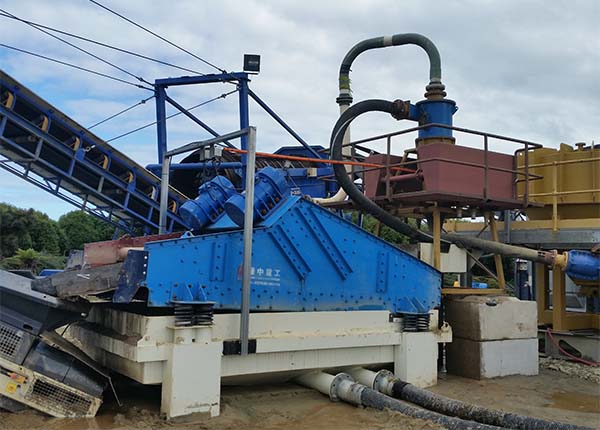 Dewater screen is composed of a pair of vibrating motors with the same performance parameters as the excitation source. When the two vibrating motors are operated in the opposite direction at the same angular velocity, the inertial force generated by eccentric block is repeatedly superimposed or cancelled at a specific phase. Thereby generating huge exciting force drives the screen box to make a periodic reciprocating motion along a linear path, so that the material layer above screen plate moves forward on the one hand, and the material layer is compacted during the picking up and falling process, to achieve the purpose of classification and dehydration.
Based on its principle, dewatering screens have several advantages in sand and gravel production line applications
1. Dewatering screens adopt polyurethane screen which has longer service life than other types of screens and does not block holes.
2. Effectively reduce the loss of fine sand, which can be controlled between 5% and 10%.
3. Different solutions can be designed according to different requirements of customers.
4. Reducing the fine material stacking time, can be directly transported and supply the market.
5. Fine sand is fully recovered, reducing the workload of sedimentation tank and the cleaning cost.
The rational use of dewatering screen can not only create higher economic value for you, but also respond to the country's call for green, environmental protection, high efficiency and energy saving.