Tailings dewatering screen supplier
Tailings dewatering screen is a kind of vibrating screen specially used for dry tailing of metal tailings, which specially developed on the basis of high frequency vibrating screen. It is mainly used for dewatering iron ore, copper ore, gold ore and aluminum. It is a new type of high-efficiency tailings recovery equipment designed for many problems in China's large number of tailings dry sieves after thorough demonstration and investigation.
Structure
Tailings dewatering screen is consists of screen box, vibrator, support springs, vibration isolation frame, and polyurethane screen.
 
Working principle
GP series tailing screen is driven to rotate synchronously in different directions by two vibrating motors, which makes the screen sieve move on periodical and to-and-fro linear trajectory to achieve screen classification purpose. When  feeding the mine tailing to its sieve, driven by vibration motors, water is dehydrated and the smaller size mine is separated from mine tailing.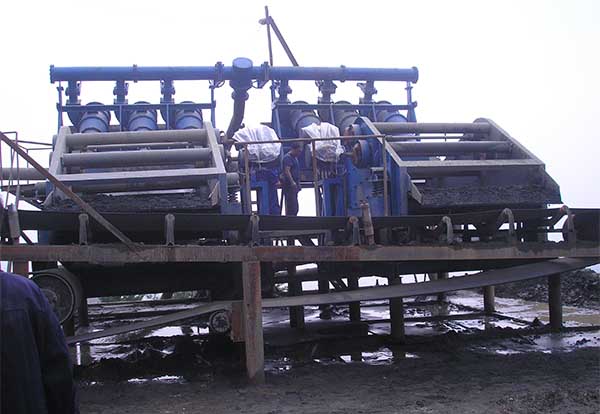 Technical benefits
1. High efficiency, vibrating force and bigger capacity
2. Simple structure and easy maintenance
3. 45° angle install, increase screen area and dehydrate faster
4. Vibrating frequency is adjustable to meet different ores
5. High pressure bolts are used between side plates and beam, no weld gap and avoid side plates cracking during vibrating
6. Special bearing to long its working service
7. Polyurethane screen with better elasticity and no blocks