World class sludge treatment machine by LZZG
Sludge treatment machine is an environmentally-friendly mechanical product that has been hot in recent years. Its function is to change the method of external mud treatment in the past, directly treat the mud on site and achieve effective mud purification. The sludge treated by sludge treatment equipment can achieve the separation of mud,water and impurities, which completely solved the problem of difficult mud treatment in construction unit. The water in mud can also reach the discharge standard.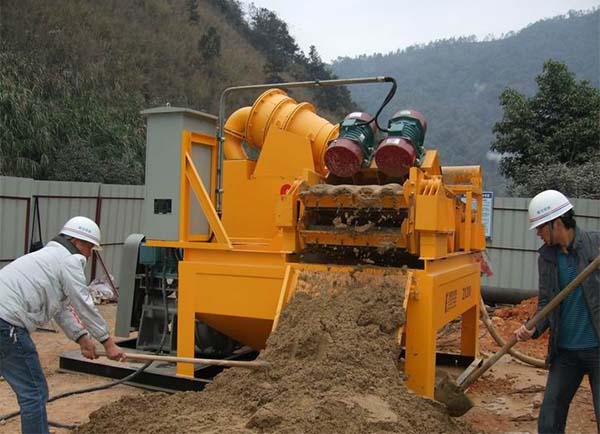 Main feature
1. Large processing capacity, reaching 200-250m3/h, high purification and sand removal efficiency, and separation particle size 0.074mm.
2. Simple operation, low failure rate, convenient installation, use and maintenance.
3. Advanced linear vibration method makes the sieved material have a good dewatering effect.
4. Adjustable vibrating screen excitation force, screen surface angle and mesh size make it maintain good screening effect in various formations.
5. The vibrating screen has high screening efficiency and can be adapted to the hole making of various drilling rigs in different formations.
6. Vibration motor has high power, low energy consumption and remarkable energy saving effect.
7. Vibrating screen operates with low noise, which is conducive to improving the working environment.
8. The anti-erosion centrifugal slurry pump has the characteristics of advanced structure, high degree of generalization, reliable operation and convenient assembly and disassembly and maintenance; thicker bearing parts and heavy-duty brackets make it suitable for long-term conveying and strong abrasion, high concentration of slurry.
9. Advanced hydrocyclone with advanced structural parameters has excellent sedimentation index. The material is wear-resistant, corrosion-resistant and light-weight, so it is easy to operate and adjust, durable and economical. Suitable for long-term maintenance-free use under severe working conditions.
10. The innovative liquid level automatic balancing device can not only keep the liquid level of slurry storage tank stable, but also realize the repeated treatment of mud to further improve the purification quality.
11. The unique recoil device can effectively prevent silt slurry from being stored in the slurry tank, thus maintaining the long-term normal operation of the equipment.
Using sludge treatment system can create the following advantages for you
1. The full purification of mud is beneficial to control the performance index of mud, reduce the stuck drill accident, and improve the quality of hole.
2. The effective separation of soil is conducive to improving the efficiency of hole making.
3.The repeated use of mud is conducive to saving pulp materials and reducing construction costs.
4. The closed loop mode of mud and the low moisture content of feed are conducive to reducing environmental pollution.