Brief introduction of sand production line
The emergence of sand production line has solved the current situation of the depletion of natural sand non-renewable resources. A complete sand production line is consists of hopper, vibrating feeder, jaw crusher,  sand making machine, vibrating screen, sand washing machine, fine sand recycling machine, belt conveyor, centralized electronic controland so on. The capacity is generally 50-500 tons per hour.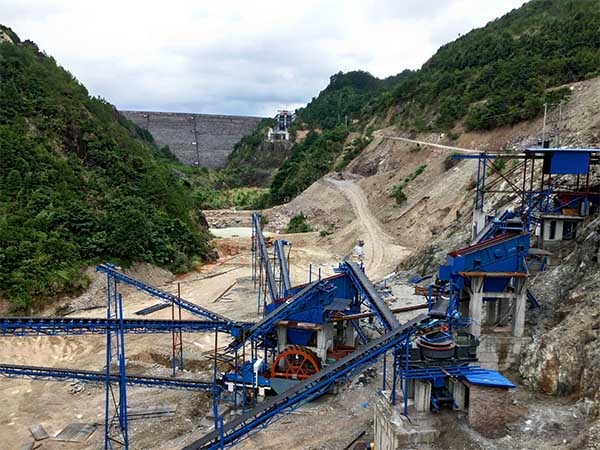 Production process of sand production line
The working process of sand production line mainly includes feeding-crushing-sieving-sand making-sand washing. The material is sent to crusher through the feeding device vibrating feeder for coarse breaking, and the vibrating screen separates the unqualified part. Then sent to the crusher for secondary crushing, and the crushed part is sent to sand making machine for sand making. The material from the sand making machine is also subjected to the inspection of vibrating screen, and the unqualified part is subjected to secondary sand making. After the sand making process is passed, it is sent to sand washing machine for sand washing, and the cleaned sand product is sent out and form stock pile through a belt conveyor. The production line finally forms a 2 closed circuit cycle, and can also design a production plan according to the user's production situation, and strive to configure the production line for each user's production.
Performance of sand production line
1. The investment is only 1/3-1/5 of the regular production line with the same processing capacity.
2. The production cost per ton of sand and gravel is only 1/3 to 1/4 of the conventional production line.
3, the degree of production automation is high, the production staff per shift is less than 3 people.
4. The investment recovery period is short, and the investment can be recovered in 3 months.
5. High degree of automation, low operating cost, high breaking rate, energy saving, large output, less pollution, simple maintenance, and the produced machine sand meets the national construction sand standard. The product has uniform particle size, good grain shape and reasonable gradation.