PE Jaw Crusher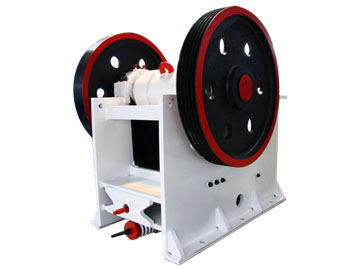 Brief introduction
Jaw Crusher is a kind of Stone crusher, and jaw crusher is also called Rock crusher. This series of Jaw crushers have many advantages which mainly used in breaking a variety of ore and the medium-size chunk of materials. The compression strength of the materials to be crushed is less than 320MPA. it can be divided into coarse crusher and fine crusher. We have all specification kinds of the products, and its feedstock size is 125mm-750mm. It is the first choice for Stone crusher plant; Primary jaw crusher is widely used in mining, metallurgy, building materials, roads, railways, water conservancy and chemical industries, etc.
Features and Advantages
1) High efficiency and low operation cost;
2) Flexible capacity; Over loading protection;
3) Simple structure and easy to operate;
4) Easy replacement of wearing parts;
5) Long service life; High reliability;
6) Wide range of choices;Alternative ordinary and hydraulic types.
Jaw crushers / Jaw breakers operating environment
When in the process of the great broken stones broke into small stones, the first crusher is often referred to as 'master' crusher, the longest history and most solid crusher is jaw crusher. When feed to jaw crusher, materials from the top of the entrance into the broken room with tooth broken, the tooth broken tremendous force the material to the top of the wall, it will be broken into smaller stones. Supporting the tooth movement is an eccentric shaft. This axis runs through the fuselage frame. Eccentric movement is usually arisen by fixed at both ends of the flywheel axis. Flywheel and eccentric support bearing is often using spherical roller bearings. Bearing working environment is extremely harsh. Bearings must support enormous impact loadabrasive water and high temperature. Though the working environment is extremely harsh, the jaw crusher still can work very reliably. this is a key element to ensure the productivity.
Working principle
The main structure of the Jaw crusher are composed of stander, eccentric shaft, belt pulley, flywheel, movable jaw plate, wrist plate ,adjustable gap screw, offsetting spring, fixed jaw plate. The wrist plate also has the effect of guarding.
This Jaw crusher's crushing style is the type of driving extrusion. The motor drives the belt and belt pulley to make the moveable jaw move through the eccentric shaft. When movable jaw is rising ,the included angle between the wrist plate and movable jaw become bigger to drive the movable plate to be close to the movable plate. At the same time the material is squeezed and rubbed, rolled to achieve multiple crushing; When movable jaw is descending, the included angle between the wrist plate and movable jaw becomes smaller. Now the crushed material is discharged from the crushing cavity, with the continuous rotation of the motor, the movable jaw crushing and discharging the material periodically to realize batch production.
| | | | | | | |
| --- | --- | --- | --- | --- | --- | --- |
| Model | Feed opening (mm) | Max feed size(mm) | Capacity (t/h) | Power (kw) | Weight (t) |   Overall dimension (mm) |
| PE150×250 | 150×250 | 125 | 1-3 | 5.5 | 1.5 | 896×745×935 |
| PE250×400 | 250×400 | 200 | 5-20 | 15 | 3 | 1430×1310×1340 |
| PE400×600 | 400×600 | 350 | 15-60 | 30-37 | 7 | 1700×1732×1653 |
| PE500×750 | 500×750 | 425 | 40-110 | 45-55 | 12 | 2035×1921×2000 |
| PE600×900 | 600×900 | 480 | 90-180 | 55-75 | 17 | 2290×2206×2370 |
| PE750×1060 | 750×1060 | 630 | 110-320 | 90-110 | 29 | 2655×2302×3110 |
| PE900×1200 | 900×1200 | 750 | 220-450 | 110-132 | 52 | 3800×3166×3045 |
| PE1000×1200 | 1000×1200 | 850 | 315-550 | 110-132 | 57 | 3200×3050×2950 |
| PE1200×1500 | 1200×1500 | 950 | 400-850 | 160 | 88 | 4200×3750×3820 |
| PEX150×750 | 150×750 | 125 | 5-16 | 15 | 3.8 | 1200×1500×1200 |
| PEX250×750 | 250×750 | 210 | 15-30 | 22-30 | 5 | 1667×1545×1020 |
| PEX250×1000 | 250×1000 | 210 | 15-50 | 30-37 | 7 | 1550×1964×1380 |
| PEX250×1000 | 250×1200 | 210 | 20-60 | 37-45 | 8.5 | 2192×1900×1950 |
| PEX300×1300 | 300×1300 | 250 | 20-120 | 75 | 11 | 2720×1950×1600 |