Trommel Screen for Sale South Africa
Trommel screen is a new type of self-cleaning special screening equipment after electric vibrating screen and common mesh-type drum screen, which can be customized depends on the different actual conditions between different users.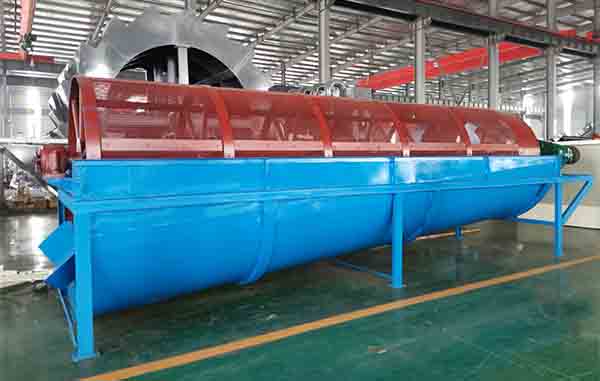 Trommel screens are widely used for screening solid materials that less than 300mm, which have lots of advantages, like, high screening efficiency, low noise, non-dust flying, long service life, and easy maintenance. The screening capacity is 30 tons/hour to 1000 tons/hour. Because of its unique structural characteristics, the trommel screening machine effectively solves the shortcomings of other types of screening equipment, such as blockage and screening efficiency, low crusher wear and high energy consumption.
Trommel screen working principle
The trommel drum screen is through the gearbox type deceleration system to implement a reasonable rotation of the equipment center separation barrel. The central separating cylinder is a screen composed of several circular flat steel rings. The central separating cylinder is installed in an inclined state with the ground plane. When working, the material enters the tube net from the upper end of the central separating cylinder. During the rotating process of the separating cylinder, the fine material is separated from the top to the bottom through the screen spacing, while the coarse material is discharged from the lower end of the separating cylinder into the crusher. During the separation process, the sieve body is continuously "combed" by the sieve cleaning mechanism while it is moving, so that the sieve body is kept clean throughout the whole working process and the screening efficiency will not be affected by the blockage of the sieve hole.

Trommel screen features
1. High screening efficiency
The plate-type screening mechanism improves screening efficiency.
2. Environmental protection
The dust cover eliminates the dust flying in the screening process, thus improving the working environment.
3. Low noise
4. Long service life
5. Easy maintenance