Thickening Method on Sludge Treatment
The thickening method on sludge treatment developed and produced by LZZG mainly includes three parts: sand-mud separation, mud-water separation, and solid waste dry discharge.
The thickening method is mainly used to treat the waste mud water in the sand washing plant and tailings, turning the mud water into clean water and flowing out from the overflow of the purification body, as the supplementary water for the washing system. The mud processing capacity of a single thickener is generally 30-200 cubic meters per hour. After the thickener, a chamber or belt filter press is usually connected to squeeze the mud into a mud cake with a water content of 25%-35%, thereby reducing the environmental pollution. The internal structure of the turbulent flow and sedimentation of the thickener, supplemented by flocculants, make the sewage purification body have a wide range of uses.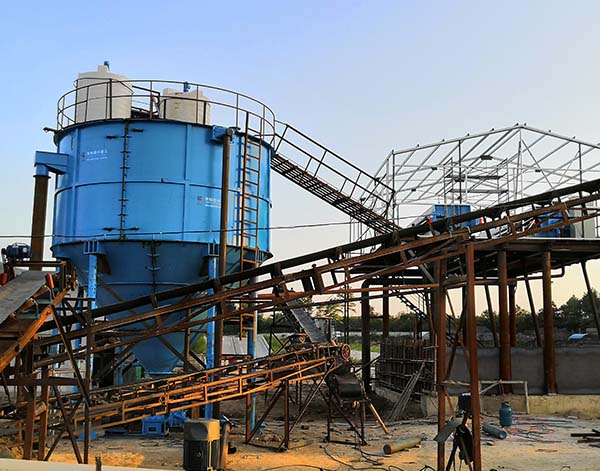 Thickening method on sludge treatment
1. Separation of mud and sand
The separation of mud and sand mainly relies on the cleaning of sand and gravel cleaning equipment or integrated sand washing and recycling equipment to desludging the material slurry (concentration <50%).
2. Mud and water separation
After the silt is separated, the wastewater is concentrated by the separator. The separated sewage enters the sewage transfer tank, and the solid materials are screened out through the vibrating screen to separate the mud and sand. The thickener plays a role in mud-water separation in the whole system. Based on the gravity settling effect of the equipment, the slurry wastewater with a solid content of 2% to 10% can be raised to a slurry with a concentration of 40% to 60% through gravity settling, which is convenient for subsequent dry discharge treatment.
3. Solid waste dry discharge
The dry discharge of solid waste is processed by a sludge filter press such as chamber filter press or belt filter press. After the sludge is conveyed into the equipment, the water in the sludge is discharged through the filter cloth through the squeezing between the filter plates to achieve the purpose of dehydration and dry discharge.