The Best Sand Washing Process with Wastewater Treatment 100tph in Vietnam
The best sand washing process is the plant of obtaining the construction sand that meets the construction standards after the sand is washed by the sand washing machine. The production process, that is, the raw sand is directly fed to the hopper through a forklift or other feeding method. The raw sand in the hopper passes through the discharge port at the bottom of the hopper and is directly transported by the loading conveyor to the sand washer for cleaning.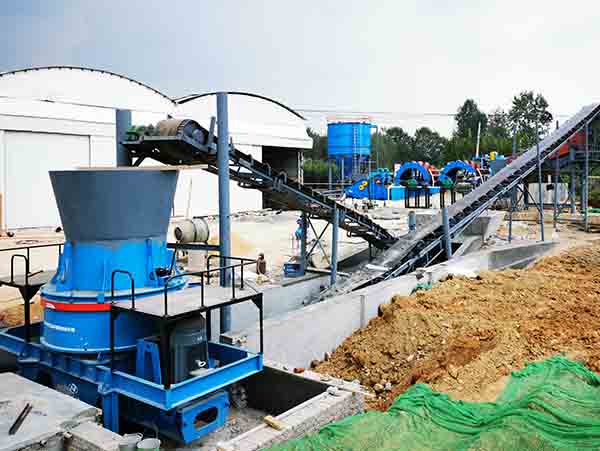 Equipment configuration
Hopper 3*3m
Sand washer LZ36-75
Thickener S-6000
Filter press G250㎡ * 2
First, feed the crushed sand into our LZ36-75 sand washer to wash the ≤75 micron clay silt and dust out, the overflow slurry will be pumped into the cyclone to recycle the fine sand. After recycling, the waste muddy water overflows to the return box, then stored in a transfer pond through a pipe.
Then the muddy water will be extracted by the pump to S-6000 thickener from the transfer pond, a Thickener is a machine based on gravity and sedimentation making solid-liquid separate from each other by using chemical flocculant. Suspended solids settle down into the bottom, while purified water flows away from overflow opening on the top of the tank into the clean water tank.
Last, muddy water is extracted by the slurry pump to filter press, our two sets G250㎡filter press will alternant dewater solids the muddy water and form mud cake, while clear water flows to clean water tank.
The whole sand washing plant muddy water recycle rate can reach above 90% and no pollution discharge.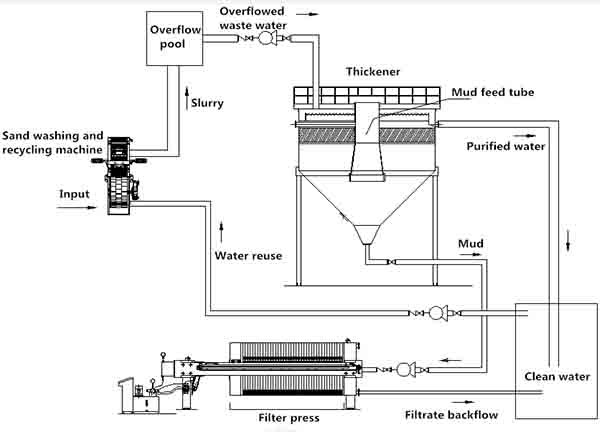 After years of production practice and design optimization, our sand washing machine has good sand washing, dehydration, fine material recovery effect, low energy consumption and spray effect. When the sand is turned over in the sand washing machine bucket, the high-pressure sprinkler can spray it with water to improve the cleaning degree.