River Stone Washing Plant Process
River stone washing plant is a complete production line composed of crushing equipment, vibrating feeder, vibrating screen, and sand washing machine, which processes large pieces of sand and gravel materials into high quality finished sand and gravel materials with different sizes. The river stone washing plant is widely used in construction projects, building material processing projects, large-scale cement production, and concrete production.
Equipment configuration of river stone washing plant
The bulk raw materials in the hopper are transported to the jaw crusher by vibrating feeder for crushing and then enters the hammer crusher for secondary crushing. Then the crushed sand and gravel are screened by vibrating screen to obtain several finished products with different specifications. This large-scale production line is used in many large-scale production projects because of its large output and high production efficiency.
The process design of river stone washing plant
1. Site survey stage. In the early stage of building the sand and gravel production line, technicians need to carefully survey the situation on the site. For sites that do not meet the construction requirements, they must be leveled or replaced in time.
2. Equipment selection stage. After detailed communication with the customer, according to the materials, the current output, and the production site, choose the equipment and model suitable for the customer.
3. Equipment installation stage. Technicians guide the installation on-site according to the designed production line, arrange each production process in detail, and what related equipment is selected on the gravel production line.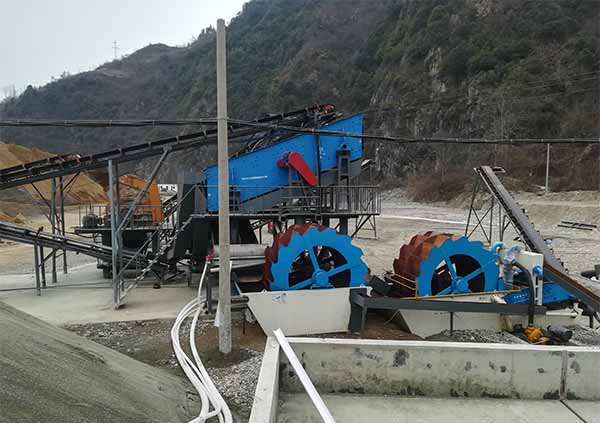 Features of river stone washing plant
1. As a manufacturer of sandstone washing plant equipment, LZZG can help customers design, install, and debug production lines ranging from 50 tons to 10,000 tons per hour. Reduced many troubles for customers in the construction phase.
2. Quickly help customers build a complete production line to achieve rapid commissioning and rapid profitability.
3. The river stone washing plant designed by our company has reasonable equipment matching and spatial cross-distribution. It has many advantages such as small floor area, high production efficiency, and good particle size for the production of sand and gravel finished materials. Thousands of production sites can be visited and inspected.