Double Deck Dewatering Screen for Sale
The double deck dewatering screen can be further sieved on the basis of general single deck dewatering sieve to obtain two materials with different particle sizes. Layer-by-layer screening improves the quality of the finished sand and satisfies the customer's needs for different materials. The double-layer dewatering sieve is an innovation of LZZG on the basis of the single-layer dewatering screen.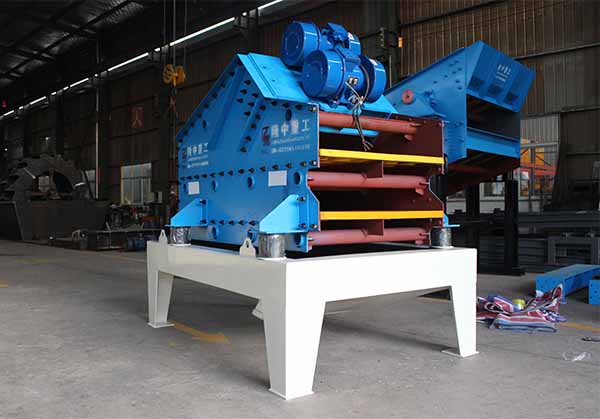 Double dewatering screen, big capacity dewatering screen adopts double electrode self-synchronization technology. The universal eccentric block and adjustable amplitude. It is mainly composed of a screen box, a vibrator, a support system, and a motor. The two coupling vibrators are driven by the tape coupling to perform reverse operation simultaneously. The centrifugal force generated by the two sets of eccentric masses is superimposed on the component of the vibration direction, and the reverse centrifugal force cancels out, thereby forming a single excited vibration along the vibration direction. Make the screen box reciprocate linearly.
When is it necessary to use a double-layer dewatering screen?
As a dewatering screening device, the screen panel is installed on the dewatering screen with fixed screen size. In the sand and gravel plant, the finished sand obtained by wet sand making has large and small particles, which not only contain sand and gravel but also stone powder and more mud. To obtain high-quality sand and gravel, the sand and gravel materials need to be dehydrated and finely sieved. At this time, a double-layer dewatering sieve is needed. After the sand is washed by the sand washing machine, it enters the double-layer dewatering sieve, which not only can divide the sand sieve into different particle levels, but also complete the dewatering. Therefore, the double-deck dewatering screen is mostly used in the gravel material plant to finely sieve the gravel material and dehydrate it.