Mobile sand washing plant for sale
The mobile sand washing plant can also be called vehicle-mounted sand washing machine, which is a variant based on the traditional fixed sand washing machine. It is an inevitable product under the new era of high-tech sand washing technology. All equipment and accessories are set on the vehicle chassis, and various cleaning, screening, dewatering, and fine sand recycling equipment are equipped on the top to form a mobile sand washing production line.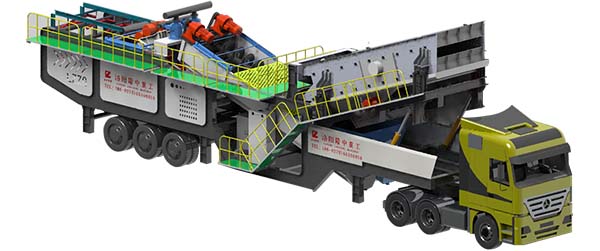 The main feature of mobile sand washing plants is that it can be moved and operated without being restricted by the site environment, more convenient to transfer, and easy to operate. Therefore, it has a wide range of applications in the current sand and stone plant, used for washing and impurities removing of various fluid sand and stone materials. According to production capacity requirements, users can choose a single machine operation, or a multi-unit sand production and screening cleaning production line to complete a larger scale sand production and sand washing operation.
Working principle
1. Structure
Mobile trailer, a screening device, sand washing device, dewatering screen, slurry pump, motor, belt conveyors, electric control and hydraulic system, etc.
2. Working flow
The material is uniformly fed to the vibrating screening equipment by a belt conveyor, and is classified into two specifications of coarse and fine materials. The coarse material on the screen is directly discharged to the stockyard through the chute. Qualified fines under the sieve will enter the sand washing machine through the flow trough, and be fully immersed, stirred and cleaned in the sand washer. The cleaned materials then enter the front-end dehydration equipment for dehydration and recovery. Finally, the qualified finished sand is to be produced.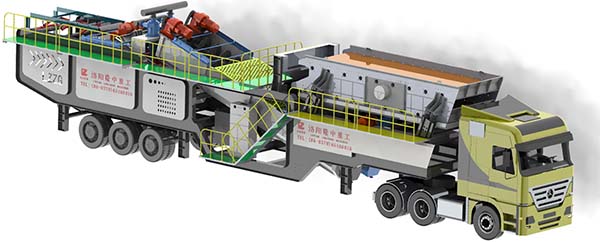 Mobile sand washing plant advantages
1. Highly integrated, high cleanliness
The mobile sand washing line integrates material receiving, screening, sand-washing, and transportation into one.
2. Automated design
The automated design eliminates cumbersome site layout, basic installation, and other tasks. And the space layout of the unit is reasonable and compact.
3. Strong mobility
The whole machine is flexible to use and can be moved with the advancement of raw materials. It is convenient and efficient.
4. Low commissioning costs
The materials can be processed on-site, greatly reducing the transportation cost of the materials.
5. Customized services
According to different material types and product requirements, more flexible processes and equipment configurations are provided to meet user process requirements.
6. Adaptable
Can run independently. It can also be combined with crushing equipment and back-end tail water treatment equipment for joint operation.
7. Good environmental protection
The mobile sand washing plant is equipped with a perfect dust collection and noise reduction device, which can assist in achieving green production operations.