How to Select Proper Screening Device for Fine-Grained Viscous Materials?
When screening wet viscous materials, the normal operation of the vibrating screen is often affected by the blockage. Because the wet fine-grained viscous materials stick to each other into agglomerates, or stick to the screen surface to block the screen holes, the effective screening area of the screen surface is reduced, and the screening efficiency is reduced. The material group is not slack and does not stratify, making the screening process difficult to complete. Therefore, the screening of wet fine-grained viscous materials is a serious problem that needs to be dealt with urgently in screening operations.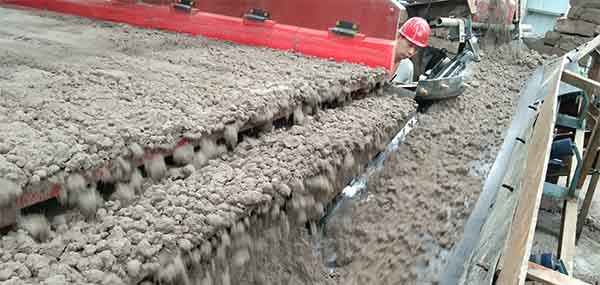 Vibrating screening equipment has undergone continuous improvement and development since its appearance, and the scope of screening materials has also been expanded from time to time. In the past, for wet and difficult to screen materials, the vibrating screen always failed to achieve the ideal screening effect. However, after unremitting efforts, we have developed dry screening equipment suitable for wet fine-grained difficult-to-screen materials, which is currently large-scale screening equipment for handling difficult-to-screen materials in China.
The enlargement of the screen refers to the enlargement of the movement parameters of the screen and the enlargement of the screening area. The large-scale sieve movement parameters mainly deal with the screening problem of difficult-to-screen materials. The large-scale screen area mainly deals with the problem of screen disposal.
The large-scale screen puts forward high requirements for the strength of the screening machinery structure, and the normal vibrating screen machine structure can no longer meet this requirement. The movement law of difficult-to-screen materials shows that to obtain a good screening effect and large disposal capacity, sufficient amplitude and vibration intensity must be used.
LZZG vibrating screen has the characteristics of large amplitude, high vibration intensity, lower frequency, and elastic screen surface, which makes this powerful vibrating screen different from other types of screening equipment. The structure of the screen adopts the movement mode of multi-stage sieve surface vibration, which makes the vibrating screen large-scale. The sieve always maintains the maximum opening rate during the working process.