Banana Screen Working Principle
The banana vibrating screen is a linear vibrating screen with a box vibrator and multi-section screen surface with different inclination angles. The shape of the screen box is similar to that of bananas. The banana screen is mainly used for particle size classification of large and medium-sized materials with high fine particle content, and can also be used for dehydration, de-intermediation, and desliming operations.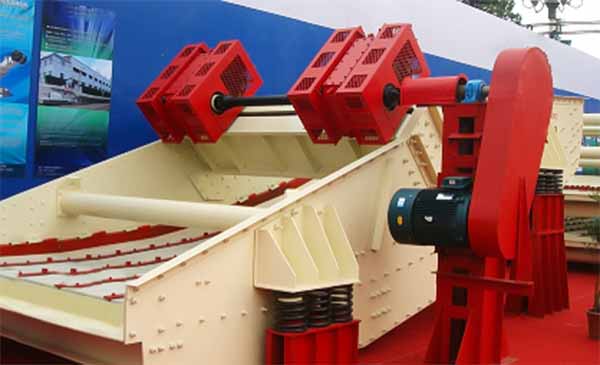 The Banana vibrating screen is designed with the proprietary technology of injecting a banana-shaped multi-segment screen surface on a linear vibrating screen. The feeding end is a large inclined screen surface, and then descends step by step at a certain number of angles until the discharge port is reached. The sloping screen surface at the feeding end enables higher screening speed and thinner material stratification when more materials pass through the screen surface. Large pieces of material travel faster through steep slopes, and this earlier stratification brings finer particles closer to the screen surface more quickly, allowing them to pass unhindered through the gaps. The banana vibrating screen has the characteristics of extremely high screening efficiency and 1.5-2 times the processing capacity higher than that of the traditional grading screen. It is an advanced and popular screening machinery product.
Structure
The banana screen is mainly composed of a screen box, screen mesh, vibration exciter, vibration-damping spring, and lower seat frame. The banana screen is vibrated by a motor and an exciter. The exciter is mainly composed of an eccentric shaft, pulley, bearing, and bearing seat. The vibration exciter is installed on the side plate of the screen box and is connected to it by a motor through a V-belt or a soft connection. The motor drives the eccentric shaft to rotate, generating centrifugal inertial force, forcing the screen box to vibrate.
Working principle
The screen surface of the banana screen adopts the form of broken lines with different inclination angles, and the thickness of the material layer is unchanged from the feeding end to the discharging end. The ratio of material volume to flow rate on the screen surface of each section is stable, the material layer is high, and it is in a uniform state. The screening efficiency is significantly improved, and the processing capacity of the vibrating screen with the same effective area is increased by 1-2 times. For the high content of fine particles, especially when the material contained in the material accounts for less than 1/2 of the classified particle size, the banana vibrating screen has extremely high screening efficiency.