400t/h Sand And Gravel Aggregate Production Line Processing Flow
Taking a customer's production site as an example, this paper focuses on the process design and equipment configuration of the machine-made sand and gravel aggregate production line.
Process design
The raw material is dolomitic limestone with an average compressive strength of 94MPa. The design capacity is 400t/h. The front end of the production line adopts the crushing and screening process of jaw crusher + cone crusher + vertical shaft crusher + finished screening, and the back end adopts the sand washing and dehydration process.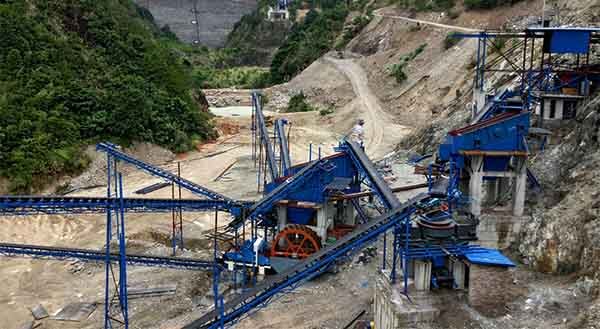 Equipment configuration
1. Coarse crushing equipment
In aggregate production, impact crushers, hammer crushers, jaw crushers, and gyratory crushers are the more common primary crushing equipment.
2. Feeding equipment
The feeding equipment mainly adopts bar feeders or heavy plate feeders.
3. The stockpiles in the middle of the production line
The intermediate stockpile after coarse crushing can be divided into front and rear sections with different operating rates. When the front-end equipment cannot operate normally due to mine supply, road transportation, equipment maintenance, etc., the latter-stage equipment can continue to produce by relying on the material stored in the intermediate stockpile.
4. Screening equipment
Through the vibrating screen, materials smaller than the medium crushing discharge particle size are screened out in advance to avoid excessive crushing. It is also possible to control the amount of material fed into the medium and fine crushing or shaping equipment and the maximum feeding particle size through the pre-screened screen size. After optimized configuration, the selection specifications of the crushing equipment can be reduced or the number of equipment can be reduced.
5. Secondary crushing equipment
The cone crusher and the pre-screen constitute a closed circuit system.
6. Sand making machine
The third stage of crushing adopts a sand-making machine, which has the dual functions of crushing and shaping. After the material is shaped by the sand-making machine, it is fed into the finished product screen, and the finished product screen and the vertical shaft crusher form a closed circuit system.
7. Sand washing and dewatering system
The crushed particles enter the sand washing machine for stirring and cleaning. The cleaned particles are picked up by the wheel bucket and entered into the dehydration screen for dehydration. The moisture content of the finished material is 12%-15%.