Quartz Sand Processing Plant
The beneficiation process of quartz sand is generally crushing-grinding-classification (desliming)-magnetic separation. Pickling is required when there are complex impurities. Quartz sand is a kind of non-metallic mineral, which can be widely used in making glass, producing metallic silicon, organosilicon compounds, etc. Quartz sand is divided into natural sand and artificial sand. The beneficiation process of natural sand does not require crushing and grinding. The following will introduce the quartz sand beneficiation process and equipment.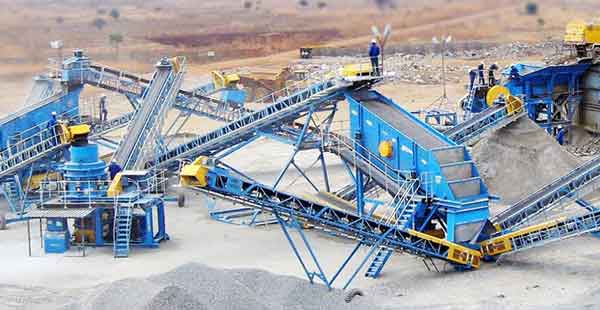 1. Quartz sand crushing process
The Quartz sand crushing process mainly includes two to three stages according to the size of the original ore particle size, namely coarse crushing and fine crushing, or coarse crushing, medium crushing, and fine crushing.
Quartz sand crushing equipment
Jaw crusher, cone crusher, impact crusher, hammer crusher, roller crusher
2. Quartz sand wet grinding-classification process
The grinding operation is to further dissociate the quartz minerals to achieve the particle size required for the production of glass. The grinding and grading operation of quartz sand often adopts a one-stage grinding and grading operation. The crushed and qualified materials enter the rod mill for grinding. The ground fine-grained materials are fed into a desliming bucket for desliming and dehydration, and then fed into a cylindrical screen for classification. The coarse sand >0.425mm is returned to the rod mill for regrinding, the particle size of 0.106~0.425mm is qualified product, and the fine sand <0.106mm is removed as tailings.
Quartz sand wet grinding and classification equipment
Wet rod mill, wet ball mill, spiral classifier, cylinder screen, hydraulic classifier, hydro cyclone, vibrating screen
3. Quartz sand magnetic separation process
The main purpose of magnetic separation of quartz sand is to remove iron impurities that dissociate from monomers in the process of rod grinding, such as weak magnetic minerals such as limonite, hematite, biotite, and tourmaline. The medium-strength magnetic separation process is often used. The qualified products after classification are sent to the drum-type permanent magnetic separator for medium-strength magnetic separation. If it still contains a small number of impurities such as weak magnetic iron oxide, it needs to enter the high gradient magnetic separator for strong magnetic separation to completely remove iron impurities and realize the purification of quartz sand.
Quartz sand magnetic separation equipment
Iron remover, drum permanent magnetic separator, high gradient magnetic separator, magnetic bar chute, magnetic plate magnetic separator.
The above is the introduction of the quartz sand magnetic separation process and related mineral processing equipment. In the actual concentrator, according to the different ore properties of quartz sand and the different types of impurities contained, the selected magnetic separation process is also different. It is recommended to conduct a mineral processing test first, and then customize a suitable quartz sand magnetic separation process and related mineral processing equipment after scientific and reasonable analysis.