4 Kinds of Fluorite Flotation Process
Flotation is the main method of fluorite beneficiation, and the development of high-efficiency flotation reagents and improvement of the flotation process are the keys to improving flotation indexes. The core issue of the fluorite flotation process is how to effectively sort and separate fluorite ore and associated ore (commonly quartz, calcite, barite, sulfide, etc.). The flotation reagents for fluorite ore mainly use collectors and inhibitors.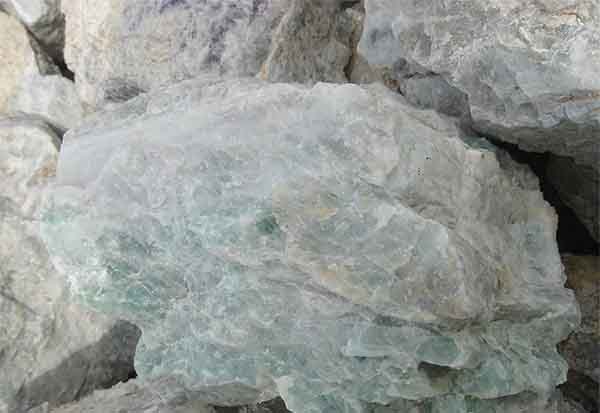 1. Quartz-type fluorite beneficiation
Quartz-type fluorite ore is mainly composed of fluorite (with a content of up to about 85%) and quartz. There is only a small amount of calcite, barite, and sulfide. The key to its separation is mainly to reduce the silicon content of the concentrate. In order to separate quartz and fluorite, the appropriate grinding fineness must be determined, and the monomers of quartz and fluorite must be dissociated through grinding operations. Therefore, the grinding fineness is an important factor affecting the flotation of quartz-type fluorite. A stage grinding-stage flotation process is recommended to adopt, which can not only reduce the silicon content in the fluorite concentrate after flotation, but also increase the recovery rate of the fluorite concentrate.
2. Carbonate type fluorite beneficiation
The main minerals of carbonate-type fluorite ore are fluorite and calcite, some of which contain a small amount of quartz. The difficulty in beneficiation of calcite-containing fluorite ore is that both calcite and fluorite are calcium-containing minerals and have similar surface physical and chemical properties.
To realize the separation of calcite and fluorite, it is necessary to adjust the pH value of the slurry and cooperate with the collector to achieve a good separation effect. In a weakly acidic medium, the floatability of calcite is relatively lower than that of fluorite. Water glass, salted water glass, acidified water glass, sodium hexametaphosphate, lignosulfonate, etc. are used alone or in combination to inhibit calcite, so as to achieve the purpose of separation.
3. Barite type fluorite beneficiation
The main minerals of barite-type fluorite ore are barite and fluorite, and the content of barite is generally 10%-40%. Such ores are often accompanied by sulfide minerals such as pyrite, galena and sphalerite. The difficulty in beneficiation of barite-type fluorite is that the floatability of barite and fluorite is similar, which makes it difficult to separate the two. The flotation of barite-type fluorite generally needs to adjust the pH value of the slurry through the mixed flotation process, and use oleic acid and water glass as collectors and inhibitors to obtain a mixed concentrate of fluorite and barite. Then through flotation to separate barite and fluorite.
4. Sulfide fluorite beneficiation
The mineral composition of sulfide-type fluorite is similar to that of quartz-type fluorite, but its metal sulfide content is higher. Therefore, while developing and utilizing fluorite, we must also consider the recovery of metal ores. Sulfide ore-type fluorite ore generally can use sulfide ore collectors to preferentially select metal sulfide minerals, and then use fatty acid collectors to recover fluorite from flotation tailings.