How Much for A High Frequency Dewatering Screen?
The price of high frequency dewatering screen is different depending on the model. The larger the processing volume, the more expensive the price. The high-frequency dewatering screen is linear dewatering equipment with a unique design with a large processing capacity and sufficient dewatering. It is widely used in filtering and dewatering operations such as dry tailings, concentrate dewatering, slurry concentration, and slurry separation. The dewatering screen can be used in conjunction with a cyclone. The dehydration efficiency is higher and more adequate.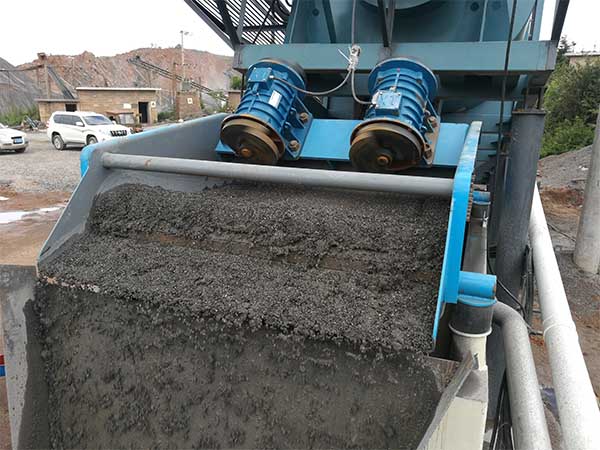 The structure of the high-frequency dewatering screen is mainly composed of a screen box, a vibration exciter, a supporting system, and a motor. The high-frequency dewatering screen uses a vibrating motor as a vibration source to make the screen body perform the periodic reciprocating movement in a linear direction to achieve grading and dewatering of materials. The high-frequency dewatering screen has the functions of dewatering, conveying, and low noise. It can effectively combine vibration conveying, dewatering, and vibration absorption into the screening machinery. The material is usually fed evenly into the inlet of the dewatering screen by a feeder, and several specifications of over sieve and underserved are produced through the multi-layer screen and discharged from their respective outlets.
High frequency dewatering screen features
1. The dewatering screen is installed horizontally, but the screen must be installed at a negative angle to ensure the forced dewatering effect.
2. Dewatering screens generally use polyurethane or rubber screens and are installed in compaction. A stainless steel composite screen can also be used for tension installation.
3. The dewatering screen can adjust the vibration frequency at any time through the frequency converter to achieve the best dewatering effect.
4. The dewatering screen is excited by a self-synchronizing liquid lubrication vibrator. The screen frame is made of special noise-reducing materials and connected with high-strength bolts to ensure reliable operation of the screen machine and reduce working noise. The working noise of the whole machine is 85dB(A).
5. The feeding section of the dewatering screen is equipped with an arc-shaped screen surface to improve the dewatering efficiency.
6. The dewatering screen is equipped with an integral bottom frame for easy handling and installation.
7. The dewatering screen relies on the filter layer on the sieve to retain fine particles and backlog for dewatering.