Fluorite Beneficiation Process Plant And Equipment
The common mineral processing methods of fluorite mainly include hand separation, gravity separation, and flotation. Due to the dilution of fluorite ore and the interlacement of fluorite and gangue, flotation has become the main beneficiation method for separating fluorite and gangue minerals. The gravity separation method is suitable for the production of metallurgical grade block ore or pre-concentration of the fluorite flotation process. Hand separation is often used as an auxiliary method for other fluorite beneficiation methods.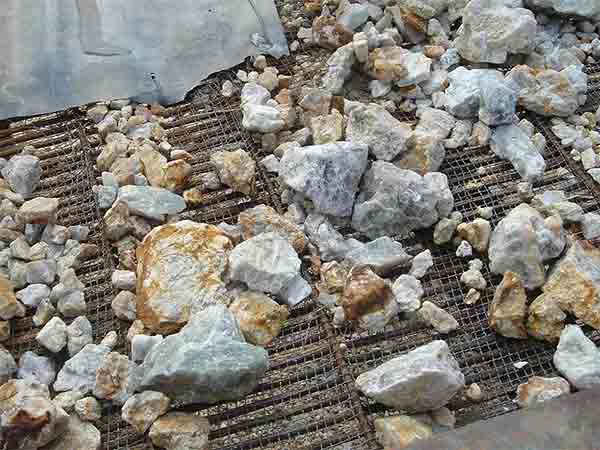 1. Hand separation method
The manual separation method is mainly used for fluorite ore where the boundary between fluorite and gangue is very clear, waste rock is easy to remove, and different grades of ore are easy to be identified by naked eyes. After punching and screening, the raw ore can be divided into large blocks, medium blocks and particles (6-15mm), which can be manually sorted and stacked according to grade. Particle ore into gravity separation, debris by flotation processing into fluorite concentrate.
2. Gravity separation method
The Fluorite gravity separation method is mainly used to separate the particle ore with high grade and particle size of 6-20mm.
Fluorite gravity separation process: The raw ore is broken to below 25-30mm and then classified. The fine particles are sorted by jig or shaker. Coarse particles are separated by heavy medium, and ferrosilicon is often used as weighting (high-density solid particles prepared by heavy suspension). When the selected fluorite ore contains barite, galena, and other heavy metal minerals, fluorite is recycled as the first weight.
Equipment: vibrating screen, spiral classifier, jig, shaker
3. Flotation method
Flotation is currently widely used in fluorite mines and is the main beneficiation method for obtaining high-quality fluorite concentrate. The ore types of fluorite can be divided into single fluorite type, quartz-fluorite type, calcite-fluorite type, carbonate-fluorite type, sulfide-fluorite type, barite- Fluorite type, siliceous rock fluorite type, etc. Whether it is a single fluorite ore or an intergrowth fluorite ore, whether it is a fluorite ore with coarse or fine crystal grains, the flotation method can be used.
Equipment: flotation machine