300t/h sand and stone aggregate production line
The production line adopts fully enclosed structure from crushing sand, screening water washing, sewage zero discharge and storage, and dust collecting pipes are arranged at dust points throughout the system to avoid dust spilt and realize environmental protection production. The raw material for the production of cave slag processing gravel.  The project uses a complete set of water washing sand sewage treatment system, which can achieve high environmental protection and low energy consumption, ensure the production of high-quality aggregate machine-made sand, and promote the recycling of water resources and waste.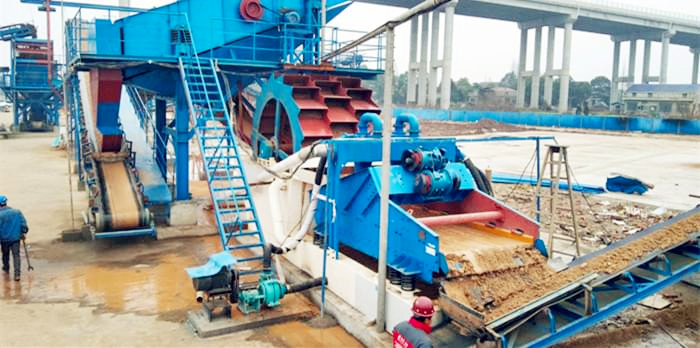 The project address: Jakarta, Indonesia
Capacity:300t/h
Equipment configuration
XSD1828 impeller sand washing machine, TS1836 linear sand dehydration screen, G500 plate and frame type filter press, S8045 sewage settling tank, vibrating screen, cloth bag filter and other equipment
The production line advantages
1. The product line has reasonable gradation and good dehydration effect, which can meet the high standard demand of sand and stone aggregate for high-speed railway construction.
2. The screening process is washed with water, the follow-up link does not produce dust, good environmental protection effect. The sewage and sludge are processed by the filter press. The moisture content of finished mud cake is low, which is basically controlled at about 25-30. Clean water recycling, full environmental closed-loop production, without any pollution discharge, to achieve green, safe and economic production.
LZZG EPC general contracting
1. It covers project planning, site layout design, equipment selection, supply, material procurement, site construction, installation and commissioning until the normal operation of the project.
2. Supply crushing sand, screening water washing, tail water treatment system, transport equipment, central control system and other required equipment.
3. Including plant construction, production line equipment infrastructure, dust removal, noise reduction and sewage and other environmental production line construction, equipment installation and debugging and later technical personnel training.