Utilization Of Slag From Waste Incineration
Slag treatment is a process of screening, crushing, impurity removal, magnetic separation, non-ferrous metal separation, tailings recovery, waste water treatment by using the difference in physical characteristics between ash and slag components to realize the recovery of iron, copper, zinc and other valuable metals. Preparation of recycled block from slag after separation. The main components of the slag produced by waste incineration power generation include molten slag, glass, ceramics, stones and other objects, most of which have the appearance of porous, light gray sand and stone.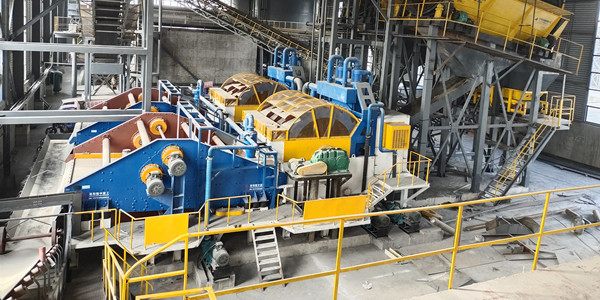 The project is located in Australia and has an annual capacity of 100,000 tons of waste incineration slag. The production line ensures that there is no secondary pollution in the process of slag treatment, and realizes fine sand recovery, tail water purification and reuse, and secondary utilization of solid waste dry discharge. The separated finished sand is made into environmentally friendly unfired bricks for sale.
Equipment configuration
The project uses LZZG sand dehydration screen ZSD2160, wheel washing machine XSD3620, chamber filter press G500-160. The processing capacity is 120-150t/h. Slag pretreatment process requires multiple equipment to work with each other to refine the slag treatment.
Processing
1. Screening
The drum screen is used to divide the slag into coarse slag and medium slag, which is convenient for the next step of cyclic magnetic separation and crushing, so as to improve the separation rate of copper and aluminum.
2. Crushing
Slag crusher is used to reduce the slag particle in order to increase the metal separation rate; The iron slag mixture was broken up and dispersed by using an iron beater.
3. Magnetic separation
The iron slag mixture in the slag is sorted out for crushing, and the iron block and iron powder in the slag are sorted out for recycling.
4. Vortex current sorting
The aluminum in slag was separated and recovered by eddy current sorter.
5. Gravity separation
The copper metal was sorted and recovered by jigging machine and shaker.
6. Sand washing
Under the rotation of the impeller, the impurities covering the surface of the sand and stone are removed, which can effectively reduce the powder content of the material.
7. Dehydration
The metal was dehydrated by vibrating dehydration screen. The moisture content of the dehydrated material is low.
8. Filteration
The sediment after precipitation is filtered by a filter press, and the clean water flows into the clear water pool for production and recycling.
9. The finished product
Sand processed from slag after treatment is used as raw materials for cement or concrete, landfill covering material and asphalt pavement aggregate, etc.
The comprehensive utilization of slag resources is beneficial to the development of society. After a series of processing processes, the slag can be recycled, such as environmentally friendly sand, environmentally friendly brick and scrap metal.