What Is The Vibration Frequency of Dewatering Screen?
The inappropriate excitation force will affect the vibration frequency of the dewatering screen and then affect the dewatering effect. The excitation force is too small will result in a poor dehydration effect, production efficiency will also be reduced. The excessive vibrating force will have a good dehydration effect, but will cause greater damage to the dehydration vibrating screen. Especially the sieve plate will make a large movement, which will cause the sieve plate to break.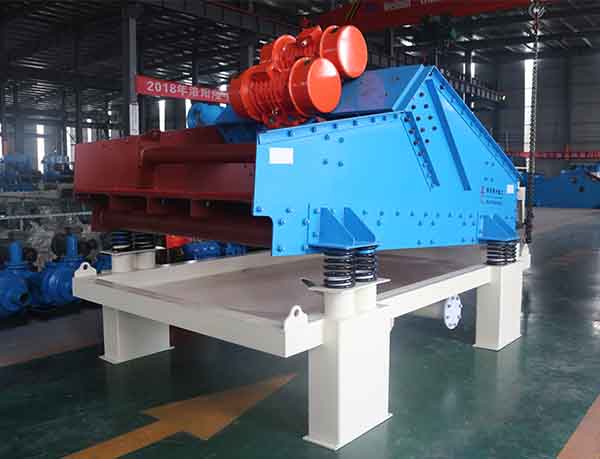 Due to the different materials, production environment, and equipment configuration, the frequency of each vibrating dewatering screen is different. In general, most of the above situations are because the vibration frequency of the dewatering screen is not adjusted properly. In addition, inappropriate adjustment of the sieve hole angle, failure to maintain the dewatering screen, and improper installation of equipment are all common reasons that cause the dewatering screen's vibration frequency and dewatering speed to slow down.
1. Exciting force
There are 8 adjustment holes between the main block and the counterweight of the eccentric block, which are equally divided by 15°. After adjusting to a different position, the centrifugal force changes, which changes the amplitude of the dewatering screen. The synchronous adjustment is required. If the adjustment position is different, the exciting force generated will be different, and then the material on the screen will move irregularly.
2. Screen width
The screen width is the main factor that determines the productivity of the dewatering screen. When the thickness of the material is constant, the passing capacity of the material mainly depends on the width of the vibrating screen, so the wider the screen surface, the greater the production capacity. However, the width of the vibrating screen should not be too large. If the width is too large, it is difficult to ensure uniform feeding during use. At the same time, structurally, the stress on the screen frame will also deteriorate.
3. Screen inclination
The dewatering screen is generally installed at a negative angle of 0-5 degrees.
4. Adopt a variety of feeding methods
The use of multiple feeds is equivalent to an increase in the screen width, which reduces the thickness of the surface material layer, which is conducive to the rapid contact of the fine particle material to the screen. It can also make full use of the screen surface to reduce the coarse particles of unnecessary transportation distance and improve work efficiency.
5. Strengthen operation management
The dewatering screen requires uniform and continuous feeding. It is also necessary to strengthen the maintenance of the screen machine, clean the screen surface and repair, and replace the damaged screen surface to ensure that the equipment is in good condition.