Checking The Amplitude of A Vibrating Screen
Checking the amplitude of a vibrating screen periodically can ensure the smooth operation of the vibrating screen, avoid the occurrence of failures, ensure production efficiency, and extend the service life.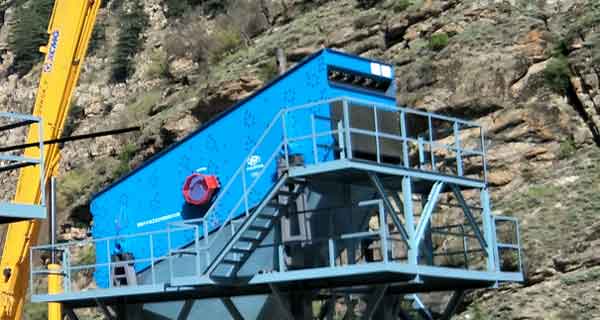 Adjustment method for inconsistent amplitude of the vibrating screen
Check the amplitude of the vibrating screen, and paste the amplitude stickers horizontally on both sides of the feed end, the bottom of the vibrator, and the discharge end of the vibrating screen. During the vibrating screen test, the amplitude difference between the two sides within 0.5mm can meet the requirements of use. If it exceeds 1mm, and will cause the change of the material flow direction and induce various faults. The following measures can be taken.
1. Observe the uniformity of the feed distribution along the width of the vibrating screen. Unevenness will cause the vibrating screen to be heavier and directly affect the amplitude. The feeding chute must be adjusted to ensure uniform feeding.
2. Check whether the universal joint between the two vibration exciters is loose or deformed, and deal with it accordingly.
3. The life of the metal springs supporting the four corners of the vibrating screen is 3000-5000h. If the spring exceeds the limit, it needs to be replaced. If this problem occurs when the service life of the spring does not reach the specified time, it is prematurely damaged due to long-term overload use of the spring or defective quality of the spring itself.
Bolt wear and loosening and tightening
Loose bolts of various parts of the vibrating screen is a very common type of failure. The reason is that there is a gap between the bolt and the nut, and the buckle type touches the screen body under continuous strong vibration force and resonates. The thread has worn out, and the specified bolt pre-tightening force cannot be reached after re-tightening. So it requires replacement, not just tightening the bolts. It is recommended not to use 4.8 grade bolts to fasten each part of the vibrating screen, but 8.8 grade bolts.