The Tailings Dewatering Screen Working Principle
The tailings dewatering screen is a kind of screening equipment developed for dewatering, de-intermediation, and de-sliming of slurry materials. It is mainly composed of screen box, vibration exciter, supporting system, and motor. The sieve plate is installed at a negative angle from the inlet to the outlet so that the liquid material is climbing on the sieve plate and vibration is added to achieve the effect of dehydration.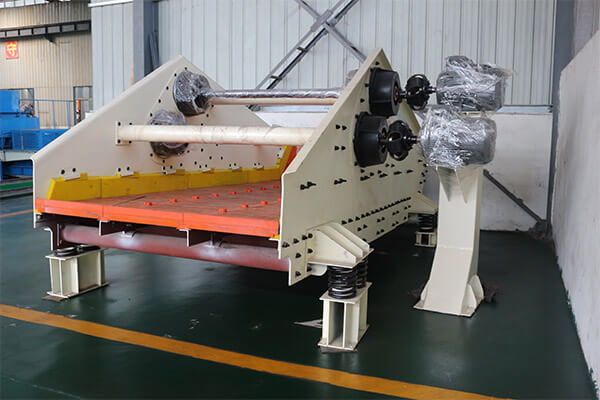 Tailings dewatering screen working principle
When working, the feed is evenly fed into the feed opening of the sieve. About 1/3 of the water is removed at the place where the drain screen is installed at 45 degrees to the horizontal. After entering the flat screen, accumulation of materials occurs. The slime particles settle by gravity and begin to form a thinner filter layer. The filter layer prevents the remaining particles from passing through the sieve, making the filter layer gradually thicker. The water that fails to penetrate the sieve forms a pool on the upper part of the filter layer. The water that failed to penetrate the sieve was gradually removed under strong vibration. Due to the vibration state of high frequency and low amplitude, the tailings forming the filter layer are becoming denser and denser, forming a filter cake shape at the discharge port.
Technical characteristics of tailings dewatering screen
1. High working frequency, high vibration intensity, high dehydration rate, high unit processing capacity, and high solid recovery rate.
2. The principle of self-synchronization is adopted. The motor drives the vibrator through the coupling. The structure is simple and the working noise is low.
3. Negative angle installation. The screen surface of the dewatering section is installed at 45 degrees from the horizontal to increase the dewatering area and promote the dehydration of the material as soon as possible to form a filter layer.
4. The amplitude is adjustable. Adjust the angle between the main and auxiliary eccentric blocks to meet the dehydration effect of tailings with different properties.
5. The side plate and the beam are connected by torsion shear type high strength bolts. Avoid the problem of side plate cracking caused by welding stress.
6. Using special bearings for vibration equipment to avoid premature damage due to heating.
7. The polyurethane screen surface has a high open rate and elasticity, which is conducive to dehydration.
8. The side pressure plate of the screen surface is made of polyurethane material, which can effectively protect the side plate of the screen frame from being washed by the material.
9. The steel coil spring is used to reduce vibration, which minimizes the dynamic load of the screen machine on the foundation.
10. The surface of the beam is coated with an anti-wear coating to prevent premature wear and breakage of the beam.