The introduction of vibrating feeder
Vibrating feeder is an auxiliary equipment in production process, which can feed the block and granular materials uniformly, regularly and continuously from hopper to receiving device in gravel production line. It is widely used in metallurgy, coal mining, mineral processing, building materials, chemicals, abrasives and other industries.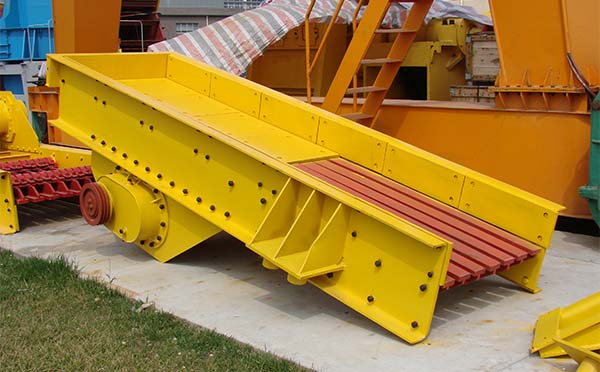 Structure and working principle
Vibrating feeder is composed of feed trough body, vibration exciter, spring support, transmission device and other accessories. The vibration source of vibration feeding is vibration exciter. The vibration exciter is composed of two eccentric shafts and gear pairs. The motor drives the driving shaft through V-belt, then gear shaft meshes with driving shaft to rotate the main shaft. The shaft rotates in the opposite direction at the same time, so that the material continuously flows to achieve the purpose of conveying the material.
Vibrating feeder uses the eccentric mass in vibrator to generate centrifugal force, so that the movable part such as screen box and vibrator can be forced to perform a continuous circular or approximately circular motion. The material is continuously thrown with screen box on the inclined screen surface, and the material is continuously and uniformly sent to receiving port.
Characteristics
1. Small size, light weight, simple structure; convenient installation and maintenance, low operating cost;
2. High efficiency, large feeding capacity;
3. Low noise, closed body can prevent dust pollution, help to improve working environment; Less power consumption, high power factor;
4. The equipment is far beyond working under resonance, so the vibration is stable, the operation is reliable, no punching phenomenon;
5. Uniform feeding, good continuous performance, adjustable excitation force; easy to change and control flow at any time, easy to operate.