What are the components of tailing dewatering system?
The tailing dewatering system is composed of screen box, supporting device, motor frame, vibration exciter, universal coupling, tape coupling, motor and the like.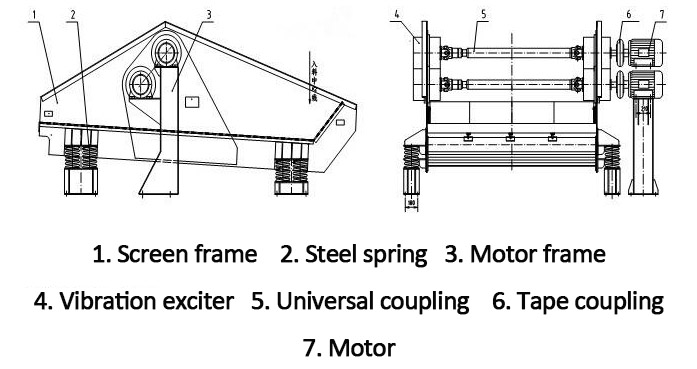 1. The screen box is composed of screen frame, screen panels and screen fixing device
(1) Screen frame is an integral space metal structure, which is mainly composed of side plate, upper beam and lower beam group, support device seat, side plate inner and outer reinforcing plate, and longitudinal beam angle steel. The longitudinal beam angle steel is mounted on the lower beam for supporting the screen surface and material; the support device seat is connected with the supporting device for supporting the weight of vibration part of whole sieve; the vibrator is directly installed at the two holes of side plate, and the reinforcing plate is added inside and outside around vibrator. The main components and the side plates are all connected by torsion-cut high-strength bolts.
(2) Screen panels are adopted polyurethane elastic plate. The screen hole is determined according to the specific requirements of users, and the screen surface size is common.
(3) The screen surface fixing device adopts the method of fixing the middle rail seat type sieve surface at both ends. This fixing method is commonly used for importing the vibrating screen, and is suitable for the screen surface of polyurethane edging. Because the polyurethane is elastic, the convex portion of screen surface is embedded in the concave portion of rail seat through extrusion. The rail seat is coupled to the upper longitudinal beam of lower beam by bolts. The method is reliable and easy to disassemble.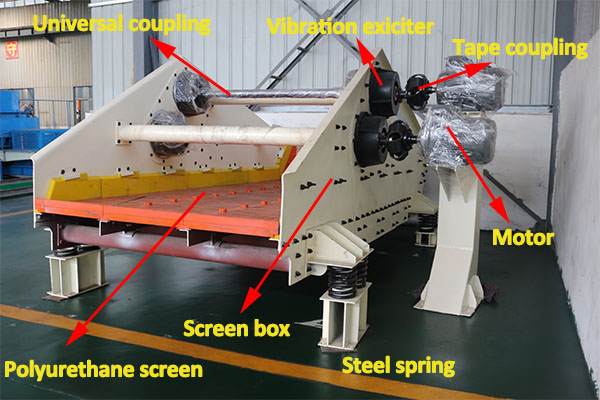 2. Vibration exciter
The vibration generator is mainly composed of bearing housing, rolling bearing, eccentric block, shaft, oiling device and protective cover. Adjusting the angle of eccentric block can change the magnitude of exciting force. The bearing is matched with the bearing seat and shaft. The bearing temperature is generally below 50 degrees, the vibration maintenance work is greatly reduced, and the working environment is improved. The eccentric vibrator has been formed into a series of 8 specifications. It can be used on circular vibrating screen or on linear vibrating screen with self-synchronizing technology. It is the best vibrator that currently used.
3. Universal coupling
The power is transmitted between the two vibrators through universal joint shaft. And because the axial direction of universal joint shaft is freely movable, thereby preventing the bearing from being subjected to the axial force.
4. Tape coupling
The tape coupling acts as a vibration isolator for the motor, which is consists of two coupling halves and a tape that is joined to the tape by a pressure plate and bolts.
5. Support device
The tailing dewater system is connected to the foundation through four sets of support devices. The support device is mainly composed of a top seat, a coil spring and a base.