The solution to high moisture content – our TS dewatering screen
The inability of the screw classifier to effectively dewater your sand product requires unnecessary double handling of your product.The solution to this problem is to employ a high frequency dewatering screen to dewater your sand product.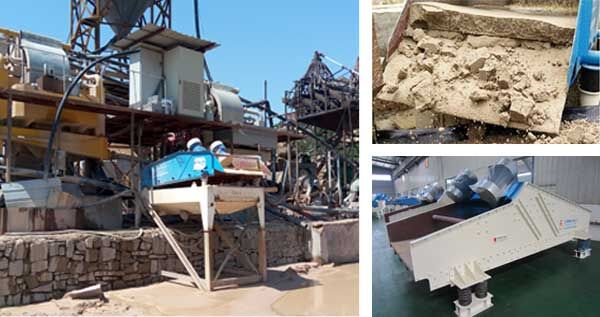 Once your sand slurry with the minus 200 mesh material removed is discharged from your hydrocyclones, it should be delivered to a dewatering screen which is sized according to your specific capacity requirements.With our TS series dewatering screen,it allows you for the production of a sand product with moisture content typically in the 12% to 15% range.
The net result of this is that the product is ready for market straight from the belt – which has a number of benefits:
You are able to sell your product immediately – turning your sand into revenue in the shortest possible time.
You are able to use your sand product immediately in downstream processes such as concrete production.
You can eliminate the area required to stockpile your sand product for further dewatering.
4.You can remove the unnecessary double handling of your material.
5.The reduced vehicle movements that this allows not only reduces your operational costs but reduces health & safety risks on site.