6 Solid-liquid separation methods and equipments
In the sand and gravel production plants, lots of waste water with very high suspended solids content will be produced because of the crushing, classifying, washing, fines recycling and other treatment processes. Moreover, if these muddy water are directly discharged without treatment will pollute river water quality. So the process design and equipment selection are very important to meet the requirements of specified recovery rate, water quality recovery or muddy water discharge standards, and the principle of advanced technology, technical feasibility, reliable operation and investment saving.
6 Solid-liquid separation methods and equipment selection
Means of solid-liquid separation (mechanical dewatering): filtration, centrifugation and reverse osmosis.
Widely used equipment in the gravel processing system for muddy water treatment process mainly includes: spiral classifier, hydrocyclone, plate and frame filter press, belt filter press, ceramic filter, rubber belt vacuum filtration machine and so on.
1.Spiral classifier
Spiral classifier combines sand washing, grading and dewatering. And according to the relative height of overflow weir, spiral classifier can be divided into three types: high weir type (overflow weir higher than lower bearing), sunken type (overflow water surface submerged spiral) and low weir type (overflow weir lower than lower bearing). Additional, according to the number of its spiral shaft can be divided into single spiral, double spiral classifier.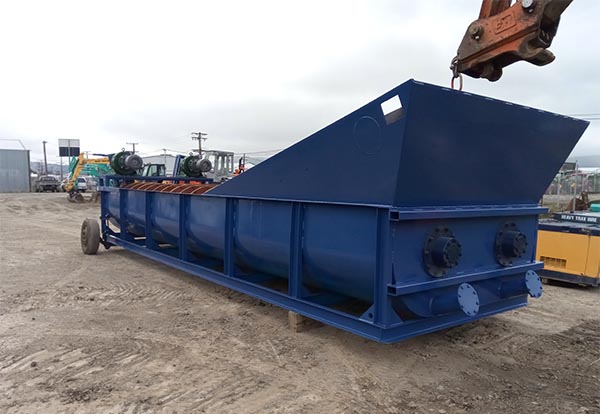 Generally, spiral classifiers have a low rotation speed, and the lower end is equipped with stirring blade paddle, wide overflow port and long body to facilitate dehydration. The applicable scope of various classifiers is shown in the following table:
| | | |
| --- | --- | --- |
| Type | Classifying size(mm) | Application scope |
| High weir type spiral classifier | >0.15 | coarse particles classifying |
| Sunken type spiral classifier | <0.15 | Fines classifying, control stone powder content |
| Low weir type spiral classifier and sand washer | | sand washing and dewatering |
When spiral classifiers for sand washing and dewatering, the production capacity is generally calculated according to the amount of sand returned, and the control particle size and allowable feed flow rate are checked according to the overflow speed.
2.Hydrocyclone
Hydrocyclone is a type of classifier that is for the fines classification and dewatering by centrifugal force. The overflow particle is generally used for concentrated slurry and recovered fine sand, and the moisture content of sand after dehydration by hydrocyclone is about 20-26%.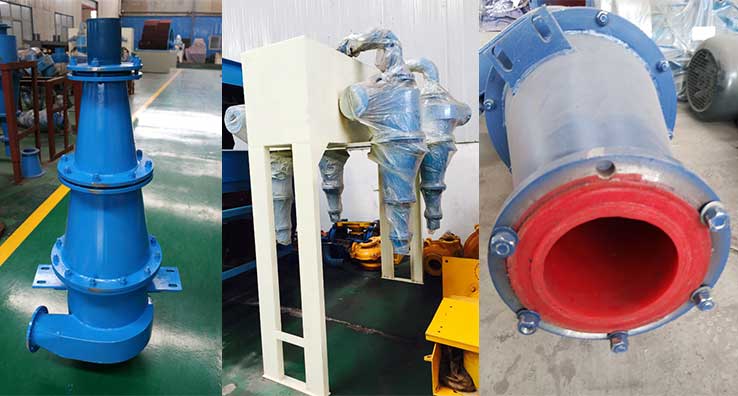 The hydrocyclone specifications are determined by the production capacity and overflow particle size. When the production capacity is large and the overflow particle size is coarse, a large cyclone should be used. If the production capacity is large and the overflow particle size is small, a small cyclone group can be used. The classification efficiency of hydrocyclone is about 30~50%.
3.Filter press
Filter press is generally used as the end mechanical treatment mode for solid-liquid separation in the waste water treatment of sand and gravel system. The material is filtered by pressure, especially for the separation of slime, which has its unique superiority. Filter press can be divided into three types: plate ans frame filter press, chamber filter press and belt filter press.
Basic principle: filter press is a filter that combines a plurality of filter plates and filter frames to form filter chambers and uses pressure as a filter driving force. The mixed liquid flows through filter medium (filter cloth), the solid stays on filter cloth, and gradually builds up on the filter cloth to form filter cake. And filtrate portion was permeated through the filter cloth to become a solid-free supernatant.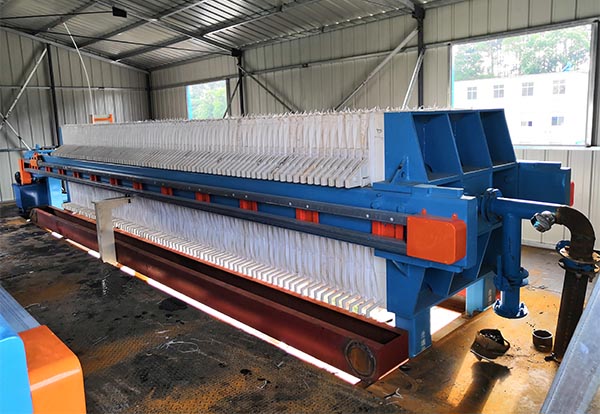 Compared with other solid-liquid separation equipment, filter press can carry out the final dewatering treatment of sludge and stone powder to meet the requirements of loading and transportation, and separate it. The water can be directly discharged or recycled, and the filter cake filtered by filter press has higher solid content and lower water content.
4.Ceramic filter
Ceramic filter is also the end mechanical treatment equipment for sludge and stone powder in waste water treatment. This type of equipment can not only carry out the final dewatering treatment of sludge and stone powder to meet the requirements of loading and transportation. At the same time, filter water can also be directly discharged or recycled. Moreover, ceramic filters have the advantages of large processing capacity, simple operation, and continuous operation.
5.Rotary centrifuge
Rotary centrifuge uses a centrifugal concentration method. Centrifugal concentration method utilizes the different density between solids in sludge and liquid, and it has has different centrifugal forces in a high-speed rotating centrifuge, so that the two can be separated. Generally, the centrifugal concentrator can work continuously, and the solid content of sludge can reach more than 4%.
6.Rubber belt filter vacuum machine
Rubber belt filter vacuum machine is composed of rubber filter belt, vacuum box, driving roller, tape supporting table, feeding hopper, filter cloth adjusting device, driving device, filter cloth washing device, frame and the like, and with the features of continuous operation and continuous filtration. Filtration, washing, slag removal and filter cloth cleaning in the production process can be completed in sequence with the operation of the tape. The moisture content of filtered solid particles can be controlled below 16%, and can be continuously transported to the designated yard by a belt conveyor. The increase of filtration efficiency has effectively controlled the corresponding operating costs, and it has been successfully applied in the treatment of waste water and waste residue in mines and gravel systems.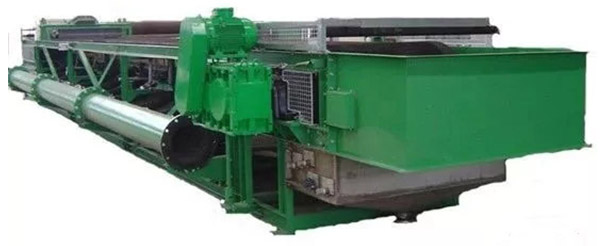 In the design of waste water treatment process, it is recommended to combine the sedimentation with the solid-liquid separation (mechanical dewatering) according to the changes of process flow of gravel processing system, the characteristics of raw materials, the size of land for production system, etc. That is, a part of coarse particles are first precipitated and separated, and the fine particles are concentrated and then dehydrated by mechanical means.
The equipment selection should be based on the specific characteristics of sand and gravel processing system. It is necessary to ensure the normal operation of the muddy water treatment system and control the operating costs to achieve energy conservation and emission reduction.